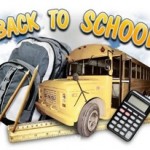 Ah, remember those cheery "BACK TO SCHOOL!" marketing campaigns by J.C. Penny, Staples, Marshalls and the rest of the lot? How they seemed to happen earlier and earlier each summer? Well, it looks like with this season's marketing blitz, retailers decided to jump on the social media bandwagon.
But are iPhone apps, Facebook pages and the others really the best way to reach our youth — most of whom who are less than thrilled with the prospect of returning to prep school purgatory or grade school gloom?
Well, if you let them design expensive shoes and apparel, it just might work! And they're using crafty social media components to help pile on the peer pressure. Genius!
In an article first picked up by PSFK, Y Pulse analyzed the industry's efforts to dazzle students with new, more interactive approaches.
Even Nike got in on the next-gen back-to-school madness — rolling out an iPhone app created for the season. I can almost hear the cries…
"But Mommm, I need these custom Nikes! They're only $120 — and look: they have my school's colors on them!"
"I already shared pictures of them with ALL my friends on Facebook!"
J.C. Penny prepped for the occasion by launching its JCPTeen Facebook page. Over 39,000 fans have signed up, and viewers are able to click through photo albums with titles such as "Cool Stuff for Guys." Likewise, Kmart created a "Mix and Match" application that functions as archaically as it sounds.
Social newbie Staples also got its networking on this season, but went the charitable route. Its awkwardly named "Do Something 101 School Supply Drive" has its home on Facebook and plans to help 13 million students who can't afford school supplies — an admirable cause (with only 6,000 fans).
Besides helping children take advantage of their parents' pockets, new media extensions by big-box retailers are interesting examples in collecting consumer feedback. Kids these days are not afraid to express their opinions on picture comments, wall posts, etc.
Despite this, J.C. Penny should be careful not to let things get out of hand with those young whippersnappers running amuck on its Facebook page. "Gay" and other comments appear under several pictures of young male models. Group infighting seems likely. The truth is that marketing to kids, well, means dealing with them too.
Campaigns are now so much more than the basic back-to-school fliers in your Sunday paper's coupon section. These social media initiatives have students talking. Brands attempting to appeal to the teen market are using social media as a tool to help foster consumers desire (the "I need that") and help kids win over Mom on shopping d-day.
(image)