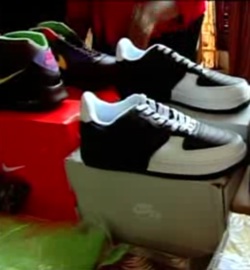 Knock-offs, like those Coach handbags you find on Canal Street, ain't legal. These fakers hurt the real brands—both in their credibility and in their pockets. The 'po frequently bust manufacturers and dealers, hauling in purses, glasses, jeans, etc. by the truckload. Hey, you don't need a lecture. On the other hand, imagine a brand with the chance to fashion a positive PR opportunity out of its rip-offs. Nike, Timberland and many others swallowed their pride and did just that, making us all proud in the process.
These brands donated the findings from three police raids to Haiti's earthquake survivors. A couple weeks ago the stash, valued in the millions, was shipped off to victims in a partnership with the Brooklyn DA,  launched with a grand ceremony of sorts. Phoenix Beverage provided storage space while the DA's office sifted through the loot, and World Vision organized transportation.
Decisions like this are steps that can change the tides of public opinion and generate greater brand loyalty. Consumers usually see through insincere displays of "goodwill", but can, in the same right, respect genuinely gloat-free acts of kindness. And as we all continue to go gaga over anything stamped "Green!", it's clear that our collective values system is shifting––meaning purchasers are taking ethical practices into account and are increasingly incredulous toward overt nudges and manipulations (let's call it advertising) en masse.
We challenge every designer brand to do the same with their contrabrand. Isn't this low-hanging fruit? (We could also suggest that they donate their legitimate goods, but let's not get ahead of ourselves—yet.) Are other brands missing the chance to align themselves with a new, more caring breed of customer by exhibiting selfless behavior? If shouldering simple, philanthropic responsibility isn't enough of a motivating factor, such demonstrations also position a brand as goodhearted and genuine…which is crucial for credibility in these refreshingly transparent times.