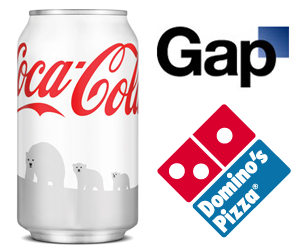 Out: brands barking at consumers.
In: consumers taking control.
From Coke's recent cancelation of its white Christmas cans to Gap reverting back to its signature logo, 2011 seemed to be the year of empowered consumers. But we've been writing about this phenomenon for some time now. The proof is out there that we have major influence over what big corporations can and cannot do (just study the branding needs of Occupy Wall Street for inspiration). So what could 2012 have in store for us?
Let's look back at a few of the year's biggest redos.
Dominos Pizza
For years, Domino's had tried to get by with subpar pizza simply because they were fast, cheap, and often the most convenient. But after a video on YouTube chronicled two employees doing dastardly deeds to customers' food, Domino's CEO Patrick Doyle issued a public apology and steered the company in a 180-degree turn. The company took responsibility for its lack of quality and began truly listening to their customers, changing recipes and even seeking out their harshest critics in an attempt to give their pizza a second chance. You'd have to figure being featured on a national commercial eating much-improved pizza would turn them into evangelists.
Ford Motors
Ford relied on its upgraded customer-feedback program to really listen to consumers. And, when they complained about the readability and messy menus of their MyFord Touch systems, they abandoned old technology and created a better version with bigger type and icons and more user-friendly navigation. Maps, voice-recognition and ebook support were all available with this update. What did Ford learn? That listening to consumers increases loyalty and gives you insight on what they might want in the future, so you can produce better products going forward. As a bonus, satisfying your customers based solely on their feedback generates positive buzz and more word-of-mouth recommendations—thus increasing your customer pool.
L.L. Bean
L.L. Bean has always made a point of adjusting based on consumer feedback. For 99 years now, the outdoor retail company has paid attention and acted appropriately. In 1912, the now-famous brand released its first item: a pair of hunting boots, which were sold to 100 people. When 90 customers returned complaining of leaks, the company graciously refunded them and borrowed more money to improve its product. The company, in fact, requests consumer feedback: Senior vice president and CMO Steve Fuller says that consumers alone are able to determine how satisfactory its wares are.
But that's all in the past. What could brands do in the future to entice consumers and brand loyalty? Let's get creative and come up with a few promotions to win customers back.
Bank of America executives are seen shackled outside their offices to apologize and win back your business.
Jim Skinner, CEO of McDonald's, must eat his own fast food exclusively for a month.
Exxon Mobil tyrants pledge to go a year without using their cars.
Wal-Mart CEO Mike Duke must spend Christmas living off a Wal-Mart storeroom salary.
Maybe even Victoria's Secret rewards men with a sexy lingerie calendar when they purchase $50 or more (just don't tell their wives).
And those are just a few ideas. The point is that we now have the power to dictate corporate action.
Which brands are on your "naughty" list this year—and what could they do to make nice again?