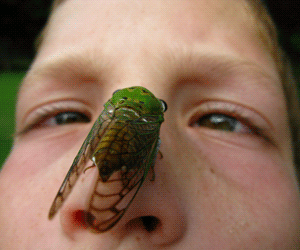 The cicadas are coming. Billions of buzzing (relatively harmless) insects will descend upon the eastern United States from Georgia to New England in the coming weeks.
If you're not familiar with them, cicadas are a unique species. For most of their lives, cicadas live underground as nymphs, digging and feeding on roots. After 17 years underground, in the last few months of their lives, they emerge by the billions, seeking high ground (mostly in trees) on which to shed their exoskeletons and emerge as beautiful winged insects. They mate, the females give birth to new nymphs deep within tree branches, and then they die. While their life cycle is unique, cicadas are most commonly known for their mating song, which is sung by the males and is among the loudest of all insect-produced sounds.
Most people are dreading their arrival. Imagine a fly: Now significantly multiply its size and sound and you've got a cicada. Oh, and imagine not one single cicada but billions. Plus, when their life cycle is complete, their carcasses will litter the ground. Are you excited yet? I'm going to ask my wife if she's excited and will check back with you in a minute. Spoiler alert: She's not excited.
Until recently I shared her sentiments. That is, until a short film by Samuel Orr about cicadas completely changed my perspective, and taught me a lesson about storytelling in the process.