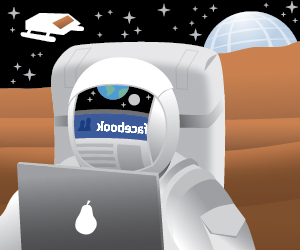 I have a bet with a friend who works in finance. He believes that Facebook will not exist in seven years. I, a marketer, couldn't disagree more. It reminded me of when, in 1995, astronomer Clifford Stoll claimed that the Internet was "grossly overpromoted" and would ultimately be looked on as a fad. (He has since acknowledged his mistake.) More from Clifford later.
It's difficult to define what "existence" even means in today's digital age, when social technologies are imagined, developed, funded, adopted and acquired by a media conglomerate (often Facebook) in a matter of months, not years. Myspace is technically still in existence (I had to test it in my browser as I wrote this, just to be sure), but it's far from relevant anymore in the social sphere. If Facebook goes the same route, I'll concede defeat. 
But I don't expect to be in that situation come 2020. Though Wall Street is panicking about the stock price, which has shrunk by nearly half, Facebook is a game-changing technology, and technologies like that don't just fade away in less than a decade. As we do the automobile, we can't image what we ever did or would do without it. It's a technology that we seemingly never saw coming (as opposed to a smartphone or tablet, which were arguably natural evolutions in product innovation), and technologies like that are special. 
So if I'm so confident about the future of Facebook, where do I think it's going? What do I think it will look like in seven to 10 years? As technology is moving so quickly, it would be futile for me to speculate on exactly what Facebook may be at that time, but here are four that opportunities could help sustain the platform.