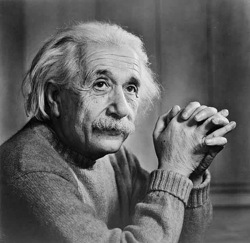 The metamorphosis of brands into fully realized media companies — that is, providers of real, quality content — is something we like to talk about a lot at Post Advertising. And we're thrilled to see it take hold. In particular, Tom Foremski, purveyor of the newly-launched EC=MC discusses many of the same concepts. Think Einstein would've agreed with us?
Foremski's equation is simple and ingenious, albeit a little cheesy: "Every Company is a Media Company." This means that brands and other entities must consider themselves media outlets and publishers of original content. To him, the idea of the "company" has irreversibly changed. Everyone, regardless of what they're hocking, will soon be expected to produce and manage media and to address and incite consumer response. From Absolut to Thierry Mugler to Golden Grahams, we're already seeing it happen.
The nearly 1,500 word manifesto Foremski lays out on his blog (and elsewhere) describes, among other things, the importance of involvement in thousands of fragmented channels, the need to publish, and the evolving, two-way nature of modern media. As Foremski announces, "Every company is a media company because every company publishes to its customers, its staff, its neighbors, its communities." And how.
While it's an inspiring read, the exhaustive post does feel a bit dated; much of it announces a web 2.0 that, for many of us, arrived long ago. Some proclamations seems obvious: "The reality is we now live in a multi-platform, multi-channel, micro-media world," and "companies must now also master the 'social media' technologies…" However, it's still a sturdy primer on the transition already taking place for many business entities. Go on, do a little math––you may end up learning a thing or two from this little equation.
(image)