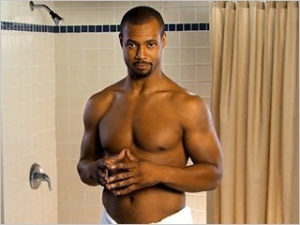 For anyone who thought deodorant and body-wash marketing was nothing but lather, rinse, and repeat, Old Spice is proving, yet again, that there's much more to it with the shining genius that is the Old Spice Man—a soaped up slice of comical manliness that went viral and has now evolved into a masterful multi-channel juggernaut of success. For all the single ladies who were convinced that the Old Spice Guy's "tickets to that thing you like"-cum-diamonds were just for them, well, now they are. The viral ad is now personalized!
It started with a couple harmless 30-second spots featuring the new bare-chested character. One of the first installments, "The Man Your Man Could Smell Like," has accumulated 12 million views since February 4th. "Questions," the latest in the saga, seems poised to make an even bigger splash. While five million views in less than a month is all well and good, it's what they've done with the attention for this piece of content that is most impressive:
Unlike others, who would've just called it a day after such a strong win, Old Spice proceeded to post advertise. They began engaging with those talking about the hilarious new character by posting personalized YouTube responses to random tweets and video comments! How's that for engagement?
.
He's also begun responding to celebrities and news outlets like Perez Hilton, Ellen Degeneres, and Alyssa Milano:
To put the extreme real-time-ness of this into perspective, Alyssa Milano's shirtless video reply posted within two hours after her initial tweet! If Old Spice is indeed rigging and scripting these responses, then bravo (honestly). If not—and they're really doing all of this on the fly—all other men's shower brands (hereby known as "wussies") should really be shaking in their boots.
Set up or no set up, it's a heck of a way to get your brand noticed amongst users, many with a million plus followers.
They've even gone so far as to buy their way onto Twitter's Trending Topics list—no doubt via their Promoted Trends ad program. (Not familiar? Read up via our post on Twitter's emerging ad model.)
It wasn't just for show, either—the Old Spice Guy, masquerading on @OldSpice and the brand's YouTube channel, is letting folks know about it:
And the video responses keep rolling in. It's turned into a branded ChaCha of sorts, where users can reach out and start any sort of dialogue—only this time, it's with a recognized brand figure. The manly man with the "rippling abs" has even appeared on talk shows (not bad for a washed up football player, as we learn). Yeah, we'd call this a successful campaign.
Well done, Old Spice. By actively interacting with your new fanbase, you've managed to multiply the shelf life of the original 30 second spots an untold, ridiculous amount of times. Moreover, by humanizing your spokesman/mascot with lighthearted engagement, you're doing more than any static spot could ever hope to do. The only question is: WHERE'S OUR VIDEO RESPONSE!? (We'll keep you updated…)
(via)