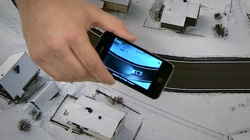 Print isn't dead, it's just…evolving, and the most innovative brands are finding new ways to make this old medium pop. Take Volkswagen, for example. The car maker recently transformed a page in a publication into an augmented reality test drive experience. But wait, how do you test drive a magazine?
The Volkswagen ad, which appeared in several Norwegian publications, is a brilliant marriage of print and digital. The print component is a foldout image of a road. After readers download an iPhone app, they hover their phones over the road, and that's when the behind-the-wheel experience of test-driving a VW begins. Users choose between three different modes demonstrating the latest real life VW innovations: Lane Assist, which makes the phone vibrate as the car nears the edge; Adaptive Lights, which follow the road's curvature; and Adaptive Cruise Control, which makes the car safely follow the car in front.
Is it the same as the feel of the steering wheel in your hands? Of course not. But it's a cool, interactive experience that demonstrates how Volkswagen is — in all senses — ahead of the curve. This is, evidently, how the brand plans to drive forward in the post-advertising world.
PHOTO CREDIT: VW Innovations /referanser.apt.no/Volkswagen/app