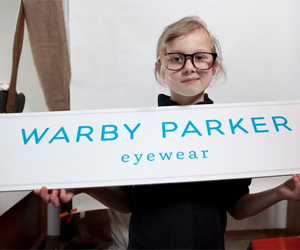 Brand-hatched crowdsourcing is nothing new. But constructive crowdsourcing with usable output? Crowdsourcing that evokes a palpable sense of togetherness? That's new. Steps being taken by nimble branders like Warby Parker and Betabrand to engage (and we mean really engage) fans and enthrall newcomers will soon become tomorrow's staples for sourcing success.
Want in on the unique new ways brands can use advanced crowdsourcing to engage followers? Read on. Each of the eight ideas we've carefully chosen has the potential to send your engagement numbers through the roof, as long as requests are within reason and rewards are provided.
This much is now true: fans must be given a concrete reason to create content, be it monetary (how about a 20 percent discount?), fame based (be featured on the front page of our site!) or otherwise. Propositions must also make simple sense to prospective participants. As we've said before, the content that's requested must have some clear and present purpose for the brand—don't call them "entries" or it a "sweepstakes"—for said request to be taken seriously.
So how do you inspire this level of engagement from followers?
1. Turn Them Into "Model" Citizens
BETABRAND
Buzzy San Francisco–based clothing collective Betabrand, headed by quirky Cordarounds creator Chris Lindland, sells uncommon and often ingenious pants, shirts, jackets and more in small batches. New products are announced weekly through product rollouts meant to heighten anticipation and break through the web's heavy static. Betabrand's latest flash of brilliance is Model Citizen, a crowdsourcing platform that rewards past customers for modeling BB duds for all to see with generous percentage-off discounts on future orders. According to a method that's in some ways an evolution of the points-based system that Threadless has used the past few years (which has evolved into a street team of sorts), the resulting photos are often featured front and center on product pages and elsewhere around the site. As reported by The New York Times in a recent profile of the collective, Betabrand customizes the site's homepage for participants, making the account holder's photography appear more prominent in an attempt to play up the fame-based perks of the program.
2. Make Their Rides a Reality
THE U.S. GOVERNMENT
In what it's calling an "experimental crowd-derived combat-support vehicle (XC2V) design challenge," the U.S. Department of Defense has laid down the gauntlet for vehicle designers, auto enthusiasts, engineers and all other comers: Help us design the shape of the future of military-vehicle design, and potentially win yourself up to $10,000 in the process. What's more impressive is how the winner was chosen: through the sourcing-obsessed Local Motors and The Forge, the car company's community of automotive designers. Local Motors' mission: "to lead the next generation of crowd-powered automotive manufacturing, design, and technology in order to enable the creation of game changing vehicles." The chosen design is on its way to becoming a "fully functioning concept vehicle."
Another aspect of note is the site that launched the effort: challenge.gov. Itself an arm of ChallengePost.com, this government-grade crowdsourcing platform helps the United States and its various sectors enlist talented citizens for myriad projects on a scale not possible in generations past.
3. Help Them Pick Out the Perfect Pair
WARBY PARKER
Warby Parker, the hottest company in eyewear these days, emphasizes a crowdsourced approach right down to the typically laborious process of choosing the right frames. Here's how it works: Choose as many as five pairs to try on; send back the pairs you've decided against. Still having trouble deciding which look is best for you? Post shots of yourself wearing each style, and let Warby Parker's Facebook community decide for you. (The brand itself also frequently chimes in, offering kind advice.) The concept is wildly successful, and the company's Facebook page bustles with activity generated by happy customers who've turned into unlikely brand advocates by helping others decide between pairs.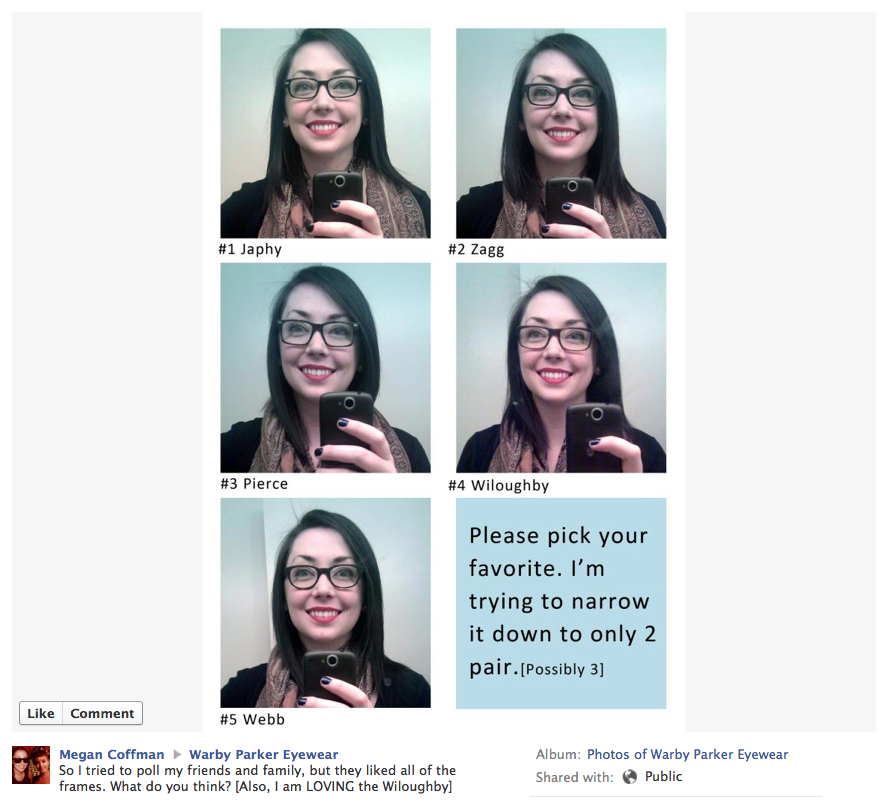 4. Enlist Their Services on Instagram
LEVI'S
When brands use Instagram right, sourcing is a snap. Take Levi's, which is using the social photo platform Instagram to cast men and women for its next collection. Denim devotees can submit photos for consideration by declaring #iamlevis; it's all part of Levi's' ongoing Millennial-targeted Go Forth campaign. How's that for incentive? "Applying a tried-and-true PR tactic like crowdsourcing to a 'new' network like Instagram adds a different dimension to things," Econsultancy's Vikki Chowney has observed, "and allows Levi's to leverage its increasing popularity in the process."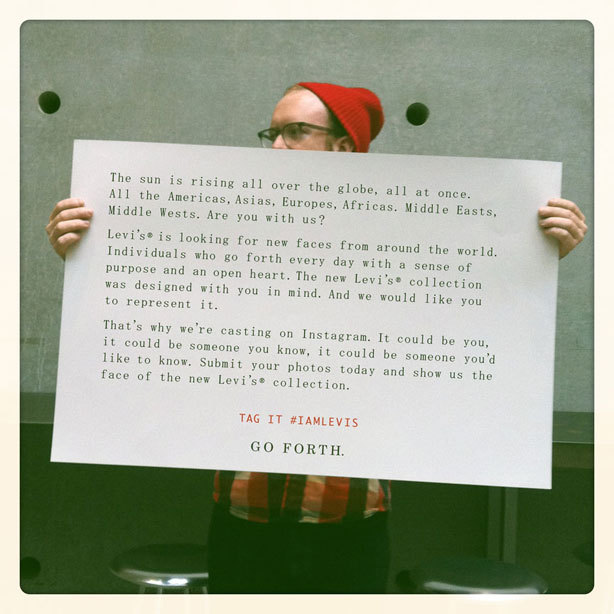 WARBY PARKER
Taking the process of sourcing product photos from willing wearers to another level, Warby teamed with the booming photo app's New York City arm, @instagramnyc (that's an Instagram handle, kids), this past weekend for #warbywalk, a photo walk around the city that garnered nearly 700 photos by the day's end. Participants were given specs to use as props in what was perhaps the biggest burst of consumer-taken product shots deliberately produced on a brand's behalf in recent history (Warby Parker put together the day's festivities, which also included an afterparty). Not all photos tagged were of the glasses, of course, but in most cases that was precisely the point. The glasses themselves are secondary to the overall lifestyle and attitude they're associated with. When the frames do appear, they're seen through the stylish lens of the smartphone-wielding fan–amateur photographer.
5. Let Them Create a Brand-new Brew
BLUE MOON
Denver, Colorado–based Blue Moon Brewing Company is deeply involving brew buffs in creating its next seasonal, limited edition beer, to be released in the fall. It's not simply a one-week one-off contest; participants absolutely have a say in the proceedings. Thus far, through the brand's Facebook page, fans have whittled down a field of overall flavors to three. Voting on a choice of label art for each of the finalists—Caramel Apple Spiced Ale, Blackberry Tart Ale and Dark Chocolate Bacon Porter—has just ended. Sampling events for fans are up next, and the final decision will be made in April. If anything, it recalls past efforts from non-alcohol bev brands, like Vitaminwater, that have previously crowdsourced a flavor, although it's more elegant and structured better engagement-wise.
The months-long effort will culminate in one beer emerging fully formed and appearing on store shelves everywhere. It will be a product that'll no doubt make anyone who's been involved in it at any point along the way proud. Think they'll buy a six-pack and gloat to their friends about their involvement? You'd better believe it.
SAM ADAMS
Boston's Sam Adams is brewing up its own crowsourcing experiment on Facebook. The Sam Adams Crowd Craft Project gives new meaning to the term home-brewed. Fans are able to chime in on color, clarity, body and flavor and receive a bit of education about each stage of the process—which perfectly matches the brand's no-frills, all-about-the-beer approach.
6. Let Them Choose the Cover for Once!
ROLLING STONE
In a historic first, Rolling Stone decided to let its readers decide its next cover stars. The magazine collaborated with AOL Music and Atlantic Records for the promotion, sponsored by Garnier Fructis, which let readers choose among 16 "undiscovered" acts. Besides picking the cover spot, the winner received a record deal, a slot at the upcoming Bonnaroo and plenty of free hair gel. When speaking to The New York Times about the landmark promotion, deputy managing editor Nathan Brackett remarked, "We're making it something where we're involving our readers at an unprecedented level."
7. Let Them "Democratize Fashion"
MODCLOTH & VELVET BRIGADE
This past December, hip online fashion shop ModCloth announced that it had acquired DIY fashion design community Velvet Brigade as part of its "mission to democratize fashion." At the same time, it launched "Make the Cut," a unique opportunity for aspiring fashion designers to see one of their sketches be brought to life as a ModCloth product. Each winning sketch eventually won $500 in cash and a small cut of the dress's sales. Truly fashion for the people by the people, this ModCloth engagement gave participants an unparalleled opportunity while providing the company with a new array of great product designs to create and sell. Most important, contests like "Make the Cut" draw the tastemaking designers of tomorrow closer to the brand.
Here are the winning names and dresses.
8. Support Their Brilliant Ideas
GOOD
Good magazine's brilliant Good Maker platform sources great ideas from readers and helps bring them to life. Organizations are invited to create challenges for their communities in the hope of achieving a meaningful impact. Community members can submit their best ideas, plans and designs for review. The community votes to decide the best idea, and the creator of the challenge rewards the winner by giving them the means to make their idea a reality. We all know how powerful a well-organized crowd can be in forcing change. What could be better than using the power of crowdsourcing for social, and cultural, good?
Have we missed any?
Photo credit: Warby Parker Eyewear
—
HAVE YOU REGISTERED FOR THE POST-ADVERTISING SUMMIT YET?
We'll be peering into the future of all things content marketing, advertising, journalism and social media at our Post-Advertising Summit, March 29th in New York City. We'll stop talking and start DOING with workshops that put pen to paper and truly create a piece of valuable content. Speakers including Simon Dumenco (AdAge), Shira Lazar (What's Trending), Joe Pulizzi (Content Marketing Institute) and more. In order to get the best price, reserve your seat at the Summit table today!