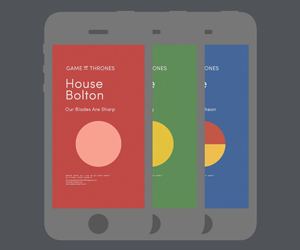 In my tween years I was a huge fan of the WWE (then the World Wrestling Federation). I would watch every episode of Superstars of Wrestling and Saturday Night's Main Event, among other various WWE programming. I'd watch all the pay-per-views on VHS days later, since my parents wouldn't splurge to watch it live (I'm not bitter or anything). I'd even watch Talking Wrestling on the local cable-access channel in Marshfield, MA, which consisted mostly of prank calls and thick Boston accents.
I was a superfan to the full extent of the definition. I begged my parents to buy me championship belts and action figures, take me to local wrestling shows and I was undefeated against my big stuffed panda bear. When Hulk Hogan had his ribs broken by Earthquake, I sent a bevy of get well letters to his hospital bedside. I even got a postcard back. The "writing" looked eerily similar to Arial, but I'm sure it was just coincidence and he wrote it all himself.
Superfans are everywhere. From television shows and video games to automotive and even CPGs, superfans are embracing the brands they love. They aren't getting the "superfan" title just because they tune in every week or refuse to drink any other kind of soda. Superfans are the rare but powerful fan base that is sharing branded content with friends, creating unique content of its own and providing an authentic endorsement of a product or service that a brand could never replicate. 
Brand managers: Are you listening to your superfans? Are you recognizing and rewarding them? Are you embracing them on their own platforms? If not, your brand may be suffering because of it. 
Going the Extra Mile(s)
I got to thinking about superfans when a colleague passed along a link to a Game of Thrones (GoT) graphic tribute website called "Where Have All the Wildings Gone?" The site, created and designed by Nigel Evan Dennis, is one of the most extensive piece of user-generated content ever created and is attracting about 8,000 new visitors every day.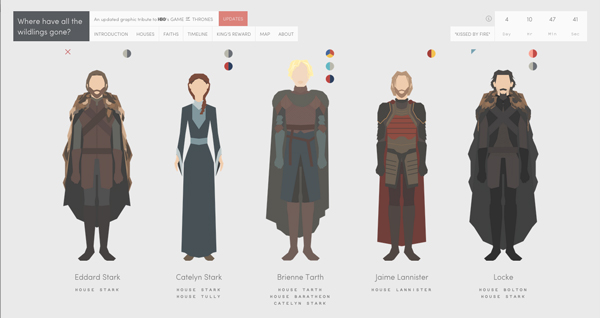 The single, vertically scrolling page features dozens of illustrated characters and colored icons that represent their respective houses and allegiances; an infographic about the alliances; an infographic about the faiths; a time line; iPhone backgrounds (color-coded by allegiance); an interactive map; and even a timer counting down the days, hours, minutes and seconds until the next episode.
How much did HBO pay for this? Not a cent.
Strangely enough, I don't have HBO, so I've never actually seen an episode of Game of Thrones, but I can still appreciate Nigel's superfan status. In a brief Twitter interview Nigel revealed that he started working on the illustrations in January and does consider himself a GoT superfan.
He's not the only one, obviously. GoT superfans are writing fan fiction, creating extensive infographics and animated GIFs (mostly on Tumblr), updating wikis, dressing up like characters from the show at Comic Con and even playing the theme song on a church bell tower. How's that for earned media?
It's Not the Size That Counts
It's a mistake for an agency to guide a brand onto a channel just for the sake of being on it. Just because Facebook's (or YouTube's or Twitter's) audience is massive doesn't mean it is the right platform for a brand. Instead, finding the right channel(s) on which to create a branded outpost starts by finding the brand's audience. That audience doesn't have to be a large one; it simply has to be the right one (and we've laid out some tips on how to find them here).
Audiences generally can be split into three major categories (and there are a number of variations on these terms)—potential fans, casual fans and superfans. In the case of a television show, superfans are the ones dressing up in character for the premiere, casual fans are DVR'ing it, and potential fans are watching only if they happen to pass by the channel and see the program. 
Where brands often slip up is when they try to create strategies to pull in only the casual and potential fans, since there are so many of them and they may not be tuning in every week. This strategy ignores the superfans because, the reasoning goes, the brand would be spending marketing dollars to preach to the converted, and if the goal is to attract new viewers, why market to the superfans?
The problem with subscribing to that strategy is that casual and potential fans are fleeting, rarely spread branded content and aren't necessarily loyal. The superfans, however, are the ones fostering the conversations about and creating content on behalf of the brand. Superfans empower the casual fans with content (UGC and branded), the casual fans then spread the news to potential fans, and the potential fans kick back and enjoy. Conversations have become media in the post-advertising age, and the brands that spread are the ones that can inspire fans to talk about them. 
Fish Where the Fish That Love You Are
If you fish in a pond that has thousands of fish, you're bound to get a few bites because of the sheer numbers. Fish where the fish are, right? But what if I told you there was a stream down the road that had far fewer fish, but that those fish absolutely loved the type of bait you use and simply couldn't resist it? You'd have fewer potential fish to catch but a far greater chance of catching the ones that are there. Plus, when the fish realize that their favorite bait is frolicking in their stream, they're going to tell other fish about it. Where would you rather fish? 
Social media is no different than the rousing fishing example I just gave. There isn't, however, just one pond wherein which your superfish…er…superfans are. There are often many. So it takes effort to seek out superfans already spreading your brand's content. But over time, the reward of embracing your superfans can far exceed isolated efforts to generate awareness (often in paid media) with potential fans.
How are brands doing this? Let me share a couple of examples with you. When HBO realized that fans of its hit show Girls were making animated GIFs of their own, it  created a Tumblr page dedicated to fan-submitted content. HBO curates the page, but every piece of content is created by a superfan (do any other kind make GIFs?). WGN America (disclosure: a Story client) doesn't create any original programming but was able to attract over two million fans and increase viewership by creating a community on Facebook that was dedicated to embracing and sharing the passion of How I Met Your Mother superfans. Speaking of the WWE, it has created a foothold on the upstart video social network Tout, not only to publish content but to curate fan-created content, even sharing fan-submitted Touts (short video clips) on the air! Imagine if the Hulkster had read my get-well letter on the air! I'd have leapt out of my footy pajamas. 
Back to the Wildlings
Very few, if any, superfans will go as far as Nigel did to create branded user-generated content, but his work is a great example of the passion that audiences have for brands. Passionate fans exist for your brand. They may be few, but they're out there. And if they're not, it's not your marketing that's the problem.
To make your marketing dollars go further, find the superfans, not just on Facebook and Twitter but also on those channels (Tumblr, Pinterest, etc.) where fans like to curate content (and that are free to join). Invest in blogger outreach that doesn't target just large publications but also the niche ones that are talking directly to your audience.
Remember that it's the conversations that will fuel media and get people to take action. Find the superfans.