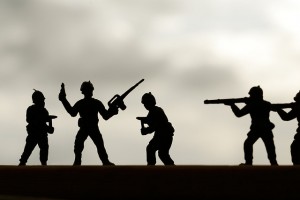 The media business has been in chaos for a decade, and there's more coming. The next big media revolution will be an escalating and increasingly bitter competition between the content creators-especially newspaper and magazine publishers-and their former friends, the traditional ad agencies, which still create and buy most print ads for their clients.
The traditional ad agencies are going to lose because creating great, engaging content is emerging as the key skill in marketing. And they don't have it.
(This article has also been published on the Huffington Post)
This is great news for the news business, which badly needs new revenue sources to replace dwindling traditional ad dollars. But it is threatening to the big ad holding companies-WPP, Omnicom, Interpublic, Publicis and their ilk-which have been dinosaur-like in adapting to a media environment that has been suddenly and radically changed by technology.
Dinosaurs were replaced by mammals (including, ultimately, you and me) because we were better able to adapt to radically changed conditions after a huge meteor's impact with Earth. The extinction-level event for traditional ad agencies is the ad world's rapid uptake of the idea that original content is the new path to engaging consumers. In a world where brands need to create and own original, engaging content, it is publishers-the people who actually understand and manage content creation-who are best positioned to profit from selling content-creating services to their advertising clients.
These changes are just beginning. They will not be completed without a struggle, especially since ad agencies still perform the role of creating and buying (or not buying) most ad space in magazines and newspapers. The traditional agencies may yet save themselves, especially since the publishing world has delayed taking action for so long. In fact, watching publishers from the outside for the past decade, it seems they've been doing everything possible to avoid change and distract themselves from their real problem: the collapse of advertising revenue.
PUBLISHERS' AD REVENUE HAS BEEN IN FREEFALL

Newspapers have led the advertising disaster. Their print ad revenue peaked in 2000; combined print and online ad revenue peaked in 2005. By 2009, America's newspapers had lost $22 billion in total annual ad dollars-44% off the peak. This has negatively impacted our society in many ways, including massive unemployment in journalism, fewer newspapers and, most disturbing, less original reporting.
Magazines have fared better, but not much. According to Pew's most recent research, newsstand sales, the most profitable form of magazine circulation, "tumbled 35% from 1998 to 2008." Worse, the number of ad pages sold fell 26% in 2009 following a 12% drop in 2008. Even in 2010, as the magazine industry boasted of a "strong" recovery, ad pages declined again, although only by 0.1%, according to the Publishers Information Bureau. That's a 35% drop in ad pages in the past three years. PIB claimed that ad dollars rose in 2010 despite the continued fall in pages sold, but its revenue numbers ignore the industry's heavy discounting and are viewed as unreliable.
Despite these obviously distressing trends, publishers largely have ignored the carnage in their ad sales departments and have fiddled instead with charging readers for online editions, erecting digital paywalls, "fixing journalism" and other non-productive, nonsensical tasks.
I've been preaching for several years that publishers are wasting precious time and displaying vast ignorance of digital with all this nonsense. "It's the collapse of ad revenue that's ruining your business, so why the hell don't you focus on advertising?" I have inquired. I have ranted about the stupidity of media barons and preached about the new rules of advertising.
Publishers, whether in print or online, desperately need to reinvent how they generate ad revenue in a digital media world where the audience is screening out traditional ad messages, publishing their own opinions through social media and, generally, taking charge of their media instead of passively consuming what the media companies offer. The quaint 17th-century idea of selling white space to advertisers, whether on a sheet of paper or a screen, just isn't working anymore.
MEREDITH MAGAZINES ARE LEADING THE REVOLUTION

Now at last some large, traditional publishers are slowly and painfully beginning to do just that. As I have not so gently counseled, they are turning themselves into marketing and advertising agencies in order to survive. (Let me be clear that I take no credit for any of this change. It's simply the natural and inevitable evolution of the media business, driven by technology and social change.)
This transformation promises a path to resurgent profits for publishers (as well as for broadcasters). It also poses a new threat to the publishers' former allies, the traditional ad agencies. The inevitable clash between publishers and agencies, by the way, is a topic that both sides fervently avoid because the publishers still depend on the agencies to place advertising in their publications. But their clash will mark the next big disruption in the media world, without a doubt.
Meredith, the midwestern magazine and TV empire in Des Moines, has been leading this slow-motion revolution very quietly. Since 2007, Meredith has been buying up marketing services agencies, mostly digital, and integrating them into its magazine operations. Now, two former Meredith executives, both instrumental in pioneering the new integration of advertising services and publishing, have jumped to Hearst and Time, where presumably they are spreading the Meredith gospel (which they helped invent) of publishers as agencies.
At the same time, smaller, savvier digital start-ups-like the Sacramento Press, a tiny online newspaper, and MedCity News, which provides specialized online news for the healthcare industry-have already arrived where the big companies are slowly headed. Both of these relatively young web publishers see the delivery of content marketing services as their primary way of producing revenue from advertisers.
Speaking at the Online News Association's most recent annual meeting in Washington D.C., Ben Ilfeld, COO of the Sacramento Press, urged his peers at other online news start-ups to "think of what you are really good at" and use that skill set to drive revenue. At the Sacramento Press, Ilfeld quickly discovered that what his people are extremely good at is using low-cost social media to attract and unite an audience. They know how to write for social media, they know how to frame stories to get attention and they know how to use the various platforms and channels. Ilfeld also discovered this was a strategic set of skills his advertisers lacked. So Ilfeld began selling social media consulting—something only agencies used to do—to his advertisers. Now, he says, it's the number-one revenue generator for his business.
Similarly, Chris Seper, a former Cleveland Plain Dealer reporter who co-founded MedCity News, generates the lion's share of his growing company's revenue by creating engaging content for his clients, most of whom are hospitals, medical centers and pharma companies that lack the skills to locate or tell their own stories. As a technology journalist, Seper knows how to create and publish engaging, accurate stories about medicine. Ad agencies still don't know how to do that. (For more detail on MedCity News, read my friend Bill Mitchell's "Newspay" blog for Poynter, the journalism education center.)
By way of full disclosure, I began my current career in the 1970s as a newspaper and magazine journalist, primarily for the late Knight Newspapers. In the '80s and '90s, I ran a fairly large independent publishing group. For the first few years of the current century, I built and ran a branded content group for McCann Worldgroup, then the world's largest ad agency. Today, I run Story Worldwide, a "new age advertising agency" (as Fox News recently described us), that I helped found in 1999. Story's mission is and always has been to create engaging, original content for brands and publish those brand stories in all forms (text, image, film, games, apps, etc.) and all media (digital and traditional). As a pioneer in creating and deploying brand stories, we've built a nice business on three continents.
So I have been blessed with a ringside seat that affords me a clear view of the media melee. And from this seat, it's been easy to see that almost all the traditional players in the media remain transfixed by precisely the wrong set of problems in their struggle to find financial stability amid the internet-driven chaos that has overtaken their industry.
"Publishing has to adapt," Wendy Riches told me recently over coffee at Cipriani Dolci on Grand Central's West Balcony. Riches knows, being the woman who arguably started big publishing down the long, slow road to inevitable change. A former senior executive at Ogilvy & Mather and other top ad agencies, Riches was hired by Meredith in March 2005 to fill the newly created job of executive vice president for Meredith Integrated Marketing.
Jack Griffin, then president of Meredith's publishing division, hired Riches and handed her the mandate and the cash to grow Meredith's marketing services division. On the same March day that he hired Riches, Griffin also elevated a Meredith veteran, Matthew Petersen, to be her partner in integrated marketing.
With the guidance of a respected agency veteran like Riches, Meredith used its cash to buy up specialist marketing agencies, form them into an integrated marketing group and use the group to sell marketing and advertising services to Meredith's advertisers. This is exactly the way the big advertising holding companies were built—one agency acquisition at a time.
Exactly five years later, Petersen was lured to Hearst Magazines to head a brand-new line of business called Hearst Marketing Services. And last August, Griffin jumped ship to become chief executive at Time Inc.
Proponents of Meredith's approach now have key positions at the country's top three magazine publishers, as ranked by total circulation. All three publishers have the deep-pocketed access to cash that only major, publicly traded companies can manage these days, since the ability to borrow money for acquisitions remains pretty much a thing of the past.
Using that cash, publishers are encroaching on what had been the ad companies' exclusive territory.
A PUBLISHER IS NOW ONE OF THE "WORLD'S TOP 50 AGENCY COMPANIES"

Meredith has made big investments to buy its way into marketing, acquiring six specialist agencies since 2007, including:
Following suit in June 2010, Hearst started down the same road by buying its first digital marketing company, search specialist iCrossing.
Meredith's shopping spree has put its integrated marketing division on the map in short order. With an impressive $164 million in revenues in its 2010 financial year, according to Meredith's public filings, the division was recently ranked #34 on the list of the "world's top 50 agency companies" by Advertising Age, the leading trade magazine of the traditional ad business. When you also consider how Meredith is leveraging its 85-million-name subscriber database as a marketing tool for its clients, the publisher becomes a very tough competitor for any major marketing agency.
The good news for ad agencies is that Meredith still hasn't really integrated its marketing and magazine divisions. To de-emphasize selling pages as their main revenue source, even when the revenue is shrinking, "is very hard for publishers," acknowledged Riches. "It's their bread and butter and it's what they know."
The very bad news for ad agencies, however, is that publishers are a few hundred years ahead of ad agencies in knowing how to attract and manage the talent needed to tell meaningful, interesting stories. While downplaying the coming competition between publishing and advertising, Riches is ready to underscore the publishers' advantages. "Publishers understand what readers want and what readers are generally interested in and how to write a story around that," Riches observes. Publishers, she adds, know how to "frame something in a way that makes people listen."
This set of editorial skills is more and more in demand for major advertisers who, increasingly, understand they can only reach people by creating and publishing content, mostly online, that the audience finds valuable, seeks out and shares with friends and strangers. This is a set of skills that ad agencies, trapped inside their own traditional silos, do not possess.
The seers agree that 2011 will be the "Year of Content" in the ad business—a business that has seen consumers increasingly ignoring traditional ads and traditional brand websites. Geoff Ramsey, CEO and cofounder of eMarketer, an extremely influential marketing research firm, recently wrote a piece titled "2011 Trends: Content Marketing is Critical." Writing at the end of last year, Ramsey said:
"Next year, marketers will need to rethink their approach to advertising and marketing and intensify their focus on creating magnetic content that will naturally attract consumers, rather than relying solely on the interruption model of advertising, which consumers are responding to less and less."
This means, he went on, marketers will need to put out original content that "consumers genuinely want to engage with and pass along to others. This content entertains, amuses, informs, serves a function or satisfies a consumer need. It's welcome instead of annoying or interruptive."
Where all this is pointing is that one day in the not-too-distant future, publishers will disband their traditional ad sales departments and hand the job of generating revenue from advertisers to their shiny new marketing services operations. On that day, their internal, content-focused ad agencies will be completely integrated with their publishing operations. And on that day, traditional ad agencies, if they haven't transformed themselves into brand publishers, will be in serious, serious jeopardy.