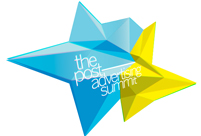 The Post-Advertising Summit celebrates the end of the broadcast age and the dawn of a new era for marketing. The advertising-as-interruption model has collapsed and the ad world is evolving. Today, we live in an opt-in culture, which means the only messages your audience will see or hear are those that they choose to see and hear. So how do you get positive attention? By creating great media that is relevant, informative, and on-brand.
In a Post-Advertising world, brands can only communicate with audiences by producing genuinely useful and entertaining content…the kind people actually want, and can share. This summit is a peek into how it's done. A morning panel and work session focus on the FUTURE OF INFORMATION. The afternoon shifts focus to the FUTURE OF ENTERTAINMENT. The Summit will prove the promise of Post-Advertising by demonstrating the amazing content that can be created by smart people on behalf of sponsors, and the extent to which great stories will spread.
Don't wait! Register now before the price goes up!
Speakers:
Simon Dumenco - "The Media Guy," Advertising Age
Mark Schaefer - Author, Return on Influence
Joe Pulizzi - Founder, Content Marketing Institute
Shira Lazar - Host/Executive Producer, What's Trending?
Steven Kotok - President, The Week
Laura Caraccioli-Davis - EVP of Advertising, Electus
David-Michel Davies - Executive Director, Webby Awards & IADAS
Michael Margolis - President, Get Storied
Andrea Miller - Founder, YourTango.com
Tom Thai - VP of Business Development, Bluefin Labs
…and more to be announced soon!
LEARN MORE AT THE FULL SITE HERE
Who it's for:
Marketing strategists, brand managers, designers, photographers, copywriters, and creative directors. Basically, anyone interested in turning the ad world upside down and developing a new method of engaging the audience.
What you'll get out of it:
These workshops will reveal the power of storytelling and demonstrate how brands can create interesting, compelling media to effectively connect with their audiences. We'll showcase those that are doing it best, plus, we'll collaborate on a few mock campaigns ourselves to put this belief in action.
5 Reasons the Summit is Different:
You will be an engaged and integral part of the event
You will leave the Summit having CREATED two pieces of content
You will be part of conversations and workshops that shape the future of marketing
Our speakers are experts across varied disciplines, not just marketing or social media
It's the only event where advertising and storytelling can be mentioned in the same sentence
The Basics:
Date: March 29th, 2012
Location: Cult Studios, NYC (27th between 6th and 7th)
Time: 9am - 5pm, with a cocktail reception from 5-7pm (see full agenda here)
Cost: $395 Early Bird; $495 Advance; $595 Day-of
Sponsorship:
Are you a pioneering brand leading the surge into the post-advertising age? If so, click here to learn more about becoming a sponsor of the Post-Advertising Summit.