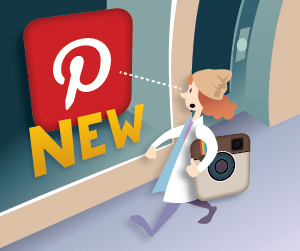 This post originally appeared in our January issue of "Live Report from the Future of Marketing," our monthly Post-Advertising newsletter. Subscribe for free here.
In the marketing world, getting in on the ground floor of the latest digital trend can pay huge dividends for users, particularly if they're brands. But it's difficult to know exactly which emerging site or app to dive into with both feet. Not every idea pans out, regardless of how much VC funding is acquired. True success depends on widespread adoption of the masses, or at least a dedicated community who simply can't do without that service.
So for marketers planning for 2012 (maybe a bit late), where should they start?
You've got help. The Post-Advertising team has gathered a list of which websites, social communities and mobile applications are poised for a successful 2012 and need to be on the radar of most brands. Not all will fit in the strategy of your brand, but if there is a common bond then you may want to get started ASAP. If you wait until 2013, you'll be too late.
CURATION
Content curation is nothing new on the web. Juggernauts like Digg and Reddit have been utilizing the masses to curate the best of the web for years now. But in 2011, new technologies emerged that took the power of curation, designed it for the numerous devices we work with (web, smartphone, tablet) and fused it with features from successful social sites, creating semi-niche communities that exploded in popularity.
What it means for brands: People's affinity for curating content that they care about, whether it's to have it handy at a moment's notice or to provide content to a broader audience, has shown how important it is for brands to create their own content that can be shared by users. The more that content is shared, the more likely that content will appear on someone's Pinterest board or Flipboard feeds. Aside from creating content, brands with active profiles within these communities can engage audiences and establish expertise.
Pinterest
Pinterest exploded onto the scene in late 2011, just recently breaking into the top ten most trafficked social websites with hockey stick like membership growth (and the site is still in beta). Users curate content they like— websites, photos, videos, and just about anything that lives on the web—by "pinning" it to their board. (web, app)

Flipboard
While one of the older apps on the list, Flipboard's success (and predicted growth in 2012) shows how important it is for brands to create their own content. Flipboard, a "pocket-sized social magazine" pulls content from your social networks (namely the feeds of those you friend/follow) and delivers it in a magazine format. The more your brand creates sharable content, the more likely it is to show up in social feeds and apps like Flipboard. (app) 
Related: Zite, Instapaper
SHARING
As the social paradigm continues to evolve and we begin to put more of our lives onto the web for semi-public consumption, it's no surprise that our physical belongings have begun to pop up for consumption (of sorts) as well. 2011 saw the emergence of sites that allow community members to share (not always for free though) – connecting travelers on a budget to connect with property owners with extra space and people who own things with people who need said things.
What it means for brands: These sites have slowly begun to change the way people travel and purchase, namely the younger generation embracing web 2.0. Brands have an opportunity to benefit from the growing desire of the public to connect the two communities: those who need and those who want, but only for a short period of time. If a brand can find a way to create a platform or community to connect, or help sponsor an preexisting community, they can win in 2012.
Airbnb
Just a few years ago there was no convenient way to connect travelers looking for accommodations with owners who wanted to rent their space on a short-term basis. Airbnb created "a trusted community marketplace for people to list, discover, and book unique spaces around the world" to help solve this problem. While privacy concerns linger, especially after a horrific debacle that left a homeowner with a ravaged and nearly destroyed home, Airbnb is still growing. (web, mobile)
Related: Couch Surfing

Neigh*borrow
Need a few power tools to finish that bathroom project you've been milking for two months now but don't want to drop a few hundred dollars? You might be in luck. Neigh*borrow is an online marketplace specializing in "things people need to use but don't need to own." The site connects people who are geographically or socially close to one another and provides the tools to reduce the "friction" of sharing. Think of it as eBAY for things you don't keep, but use when you need and return. (web)
Related: Zaarly
MUSIC
We've written extensively about branding for Spotify, Pandora and more. These emerging technologies have dragged the music industry kicking and screaming into the 21st century, and brands should take notice. Their deep integration into social channels, particularly those that are frictionless, means free, targeted impressions for artists.
What it means for brands: Music fans are hungry for free and low cost streaming music services, but just buying interruptive and annoying ads within those services aren't enough (the paid Pandora subscription is worth it to avoid commercials). Finding ways to integrate music into branded content (think: curated playlists) can help color a brand's personality like never before.
Spotify
Spotify is your music library on steroids. As long as you have an internet connection, Spotify connects you to millions of tracks on demand, with no need to download and easy ways to create playlists, share your content, and discover new artists. The free version supports itself on the back of banner ads and ad spots between songs, but the paid version will rid your day of those nuisances. (windows/mac, app)
Related: MOG

Pandora
While Pandora doesn't allow the user to choose songs on demand, it does help users find new music and listen to the music they already love by utilizing an algorithm that groups similar artists and takes into consideration the songs you thumb up or down. The ads are less intrusive but still show up every so often, however pay a few dollars a month and you have an endless playlist. (web, app)
Related: Grooveshark
FOOD/DRINK/ENTERTAINMENT
Web 2.0 has changed the landscape of dining and entertainment. Looking for something to do or somewhere to eat? There are numerous apps and sites that will help you find or discover just what you're looking for.
What it means for brands: Focusing on hyper-niche targeted technologies can lead interested users discovering a new, favorite brand. Brands in this category that aren't afraid to think into the future can come up with technologies that take the guessing game out of planning a night, making life easier for audiences and even giving them reasons why they should be engaging with your brand.
SocialGrapes
We can check into places, movies, TV shows, and now wines. SocialGrapes allows users to check into wines, share toasts with friends, and (most importantly for wine/spirits brands) discover wines they'll love. Are you a wine brand? Get your fans using this app and checking into your wines ASAP, though how great would it have been if your brand were the ones to have created it? (iPhone)
Related: GetGlue

Curbed
Curbed is a network of sites providing local information on dining & nightlife, shopping & fashion, and design & real estate in cities like Boston, NY, D.C., Los Angeles and more. The editors of Curbed "relentlessly report on sales and rental prices, new developments, neighborhood trends, and celebrity deals." Brands with local ties will want to take note of sites and apps like these, particularly the geosocial apps where peer reviews and opinions truly influence where people choose to go. (web, iPhone)
Related: Gothamist, Eater
What technologies do you see making a splash in 2012?
—
HAVE YOU REGISTERED FOR THE POST-ADVERTISING SUMMIT YET?
We'll be peering into the future of all things content marketing, advertising, journalism and social media at our Post-Advertising Summit, March 29th in New York City. We'll stop talking and start DOING with workshops that put pen to paper and truly create a piece of valuable content. Speakers including Simon Dumenco (AdAge), Shira Lazar (What's Trending), Joe Pulizzi (Content Marketing Institute) and more. In order to get the best price, reserve your seat at the Summit table today!