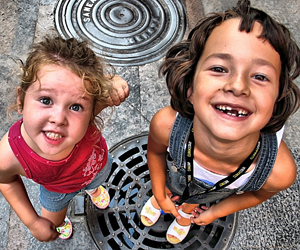 This past weekend I had the joy of throwing a surprise birthday party for my wife. And by joy I mean massive amounts of stress and that sick feeling in my stomach I get when I have to withhold the truth from my wife (which is infrequent, I swear!).
After I took her out for lunch and a spa treatment, we returned to the house, where the guests were huddling in the rear hallway. When we pulled into the driveway, my wife noticed that one of the trash barrels had been moved to the side porch (to make it easier to clean up after the party). Even though I begged her to take care of it later, she had to put the barrel back in its place. This would mean we'd enter from the side door, not the front door, as had been intended.
As we stepped onto the side porch, I could hear the guests inside the house shuffling away from the door to hide elsewhere. Luckily, she was too preoccupied with cleaning her porch to hear anything, and when she entered the house she was completely surprised and delighted. Friends and family had come from as far as six hours away to celebrate, and we partied and danced into the night.
It was a lot of work, but in the end it was beyond worth it. You don't have to plan a party for your brand's fans, but surprising and delighting them when they least expect it can do more for your brand than you might think. 
Surprise and Delight in Social Media
Social media has given brands a new way to respond in real time and be truly agile. But it's not easy. Many brands shackle their community managers with several levels of approval and red tape that make social agility just a pipe dream. And when it comes to brands surprising and delighting fans, it takes not only agility but also a great deal of selflessness. In a world where brands are still trying to broadcast to the masses, spending time and resources to make a few fans, or even one fan, happy isn't high on many brands' marketing priority lists.
But the post-advertising age has created something else—audiences of audiences. A single effort to surprise and delight can be (and often is) shared with that individual's audience of friends and followers. If that effort is unique, some of those audiences will offer it to their own audiences, amplifying the reach exponentially.
Here are a few brands that have committed themselves to surprising and delighting their fans and reaped the rewards of earned media in the process.
1. Taco Bell
If you're a community manager of a Facebook page, you know that every once in a while fan-generated posts can be unique, to put it mildly. In mid-December, the Taco Bell Facebook page, which is home to more than 9.5 million fans, received a request from Ryan Klarner, a high school swimmer and diver and self-proclaimed Taco Bell superfan, for a customized Taco Bell Speedo featuring the phrase "Outside the Buns" (one of the franchise's slogans) on the back.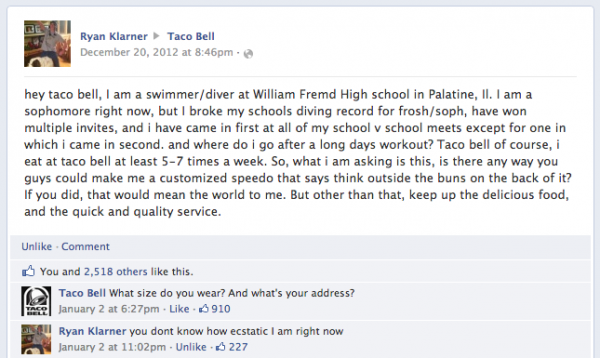 Three weeks later, Taco Bell responded, asking Ryan for his size and address, and appears to be following through on its promise. The post itself has more than 2,400 Likes, and individual comments are themselves garnering hundreds of Likes. Those are impressive numbers when you consider that it's a post by a fan, which doesn't post to the feeds of individual fans.
The story has garnered lots of earned media, too. A Google search for "Taco Bell Speedo" returns 734,000 results including mentions in the HuffPost, Business Insider and Adweek. All that earned media for the cost of a custom Speedo and shipping. How much are you paying that PR agency again?   
2. REI
With the joys of the Christmas season comes the stress of figuring out gifts that won't leave your husband unimpressed and your niece straight up crying. Outdoor-gear company REI knows this and took to YouTube to proactively set out to help shoppers who were facing the gift-giving crunch.
REI's social and creative teams partnered with REI's Green Vests (well-informed store associates) to create customized videos that contained gift suggestions in response to queries from customers. Twitter users could use the #giftpicks hashtag to request a response.
In all, 89 videos were created, including this response to @RobbieHolliste1's tweet.
Old Spice may have popularized this type of social-media ingenuity, but REI's videos were unique in that they actually offered the recipient something of value, not just something to chuckle at. The effort resulted in action, as well. According to Fast Company, it doubled traffic to the REI site. 
If that wasn't enough, when REI received a fan photo replicating the outfit in one of the company's ads, it responded in kind: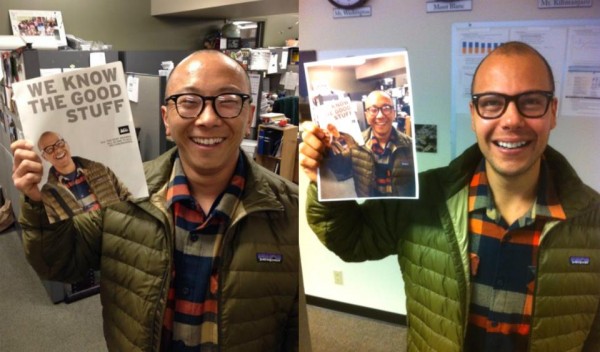 3. WGN America
CBS's hit show How I Met Your Mother is a bona fide success in the world of sitcoms, and it has a host of loyal superfans. There's no better place for them to congregate than on Facebook, namely on YourMother, the Facebook community for "Mother Lovers" that is supported by WGN America*. 
But it's not enough to just be one of millions (the page has nearly 2 million fans). WGN America wanted to find its biggest superfans, and it found one in Tyler Madden. Tyler may be among the youngest superfans, but his entry in the first Suit-Up Challenge caught the brand's eye. WGN America was so impressed by his fandom, which included asking for suits and pressed shirts on his ninth and 10th birthdays in honor of Barney Stinson (the iconic character played by Neil Patrick Harris), that WGN America invited him to Chicago to film promotional spots that aired on the network.
All this attention helped get Tyler a mention by none other than Neil Patrick Harris himself when Harris joined Kelly Ripa on her morning show.
WGN America continues to work with Tyler to help him meet his idol.
4. Canadian Space Agency
That's not a typo. Indeed, the Canadian Space Agency, in particular Commander Chris Hadfield, who is better known on Twitter as @Cmdr_Hadfield, has done an amazing job documenting his time orbiting Earth. Commander Hadfield tweets anywhere from a dozen to two dozen times a day, often providing followers with breathtaking pictures of the planet from his perch in the International Space Station.
While his Twitter stream is full of interesting content, Hadfield also surprised and delighted William Shatner, known for his role as Captain Kirk on Star Trek, when he replied to @WilliamShatner's question about whether Hadfield was actually tweeting from space.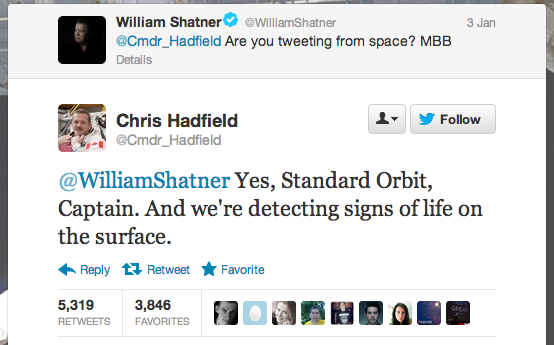 Fellow cast members George Takei (@GeorgeTakei) and Leonard Nimoy (@TheRealNimoy) also responded to and shared the conversation with their audiences. Even Will Wheaton (@wilw), a member of the cast of Star Trek: The Next Generation, chimed in.
The witty repartee between the real-life astronaut and the on-screen talents from Star Trek brought massive awareness to the CSA and has helped Hadfield acquire more than 140,000 followers. Who even knew Canada had a space program?
It's the same in marketing as in life: The difference between good and great is in the little things. Doing the little things can be tedious and expensive and even end up not working out. But it's the willingness to do what most brands aren't willing or able to do that can differentiate your brand in a crowded space. 
Take a look at your brand's audience. What can you do for them right now?
*WGN America is a Story Worldwide client.