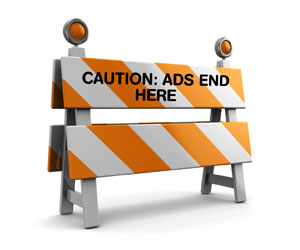 Rebecca Leib (@lieblink) was tweeting the other day about her newest research on digital marketing. Her report documents the ongoing shift away from digital ads—ineffective banners, mostly—to valuable content. But while the shift to content is historic and badly needed, Rebecca was tweeting about the biggest problem of content marketing: it generally lacks a coherent strategy.
She tweeted:
I tweeted back:
Yes. This is the heart of it. #contentstrategy must link core brand story, audience & purpose or money is wasted. @lieblink @markfsimmons

— Kirk Cheyfitz (@KirkCheyfitz) March 25, 2016
Our Twitter-chat was about Rebecca's most recent report, "The Eclipse of Online Ads." (You can download it here if you provide your name, company and email.) I was among the first of the "17 industry leaders" interviewed by Rebecca for input that helped shape her findings.
Brands, her report says, are coming to understand that old-fashioned "advertising" simply doesn't work online. This is demonstrably true and it's one of Story's long-held principles. Little more than 1/10th of 1% of people, for example, click on banners anymore, her report notes. Like most forms of digital ads, banners usually represent a failed attempt to bring TV-thinking to the web. They are dumb, interruptive and people hate them, especially on mobile screens, where most people around the world spend most of their time online these days.
Rebecca's report has a number of great observations, including:
Marketers "should build customer-centric…strategies that rely more on valuable content and less on media buys."
"The rise of digital, mobile, and social technologies has transformed traditional advertising into a commodity."
"Savvy marketers are exploring…[non-traditional] marketing avenues that offer greater control, while advertising remains an expensive dinosaur with diminished returns."
"94% of online video viewers skip pre-roll ads before five seconds has passed and 25% of the few video ad views are fraudulent."
But as Rebecca tweeted, effective content relies on a strategic framework that connects a brand's unique story with an audience's deep interests to accomplish a defined business objective. Without such a strategy, content simply can't produce measureable results. Traditional advertising isn't working very well, especially online. But the strategy of advertising—the idea that you need insights and a plan to link brand to audience to results—is critical to producing content that works. (Also, as content guru Joe Pulizzi says in the most recent issue of his magazine, Chief Content Officer, "Most self-styled content marketing agencies are not content marketing agencies at all." What they produce, he says, lacks strategy and is "horrible." But that's another story.)
I started declaring traditional ads and the 30-second TV spot dead about 20 years ago. I now admit that might have been a bit early, but ads seemed wasteful, irrelevant and ineffective even back then. Once the Internet turned into our dominant medium, it became literally crazy to try to interrupt people with ads that shout product claims. It's especially crazy now in digital/social channels where blocking and avoiding such bad behavior is so easy.
The future of all media is digital. Rebecca Lieb's main point is that ads—those increasingly ineffective relics of a bygone era of media—have no place on digital channels. Story has believed this to be true for quite a while. Now we all have dramatic proof in the rise of ad blockers, ad avoidance and ad annoyance. (An old Story creds deck from 2006 has a slide citing a 2005 Yankelovich study that showed 69% of U.S. adults "would pay money for products that help them block, skip, opt out of or avoid advertising and marketing messages." That was a decade ago, folks. So no one has the right to pretend surprise about what's happening a decade later.)
Digital has destroyed print advertising, decimating the newspaper and magazine industries. Now digital is closing in on the destruction of TV. Then it'll be lights out for traditional ads.
We're hearing loud and irrational denials from the networks, but there's no doubt the mainstay of the traditional ad business will be the next to go. Lack of ads will kill TV along with cord cutters, cord nevers, DVRs, streaming services and so on.
But as I have learned at considerable cost over the last two decades, just because TV ads don't work anymore and TV audiences are shrinking doesn't mean television is disappearing in the next week or so. The ad business has been almost as good at ignoring the facts as the audience has been at ignoring the ads. There are still lots of big marketers out there who can't let go of the past. For them, TV (and even print) is "real" while the more subtle and effective strategies of multi-channel, digital content are still science fiction. I see this constantly when talking to brand marketers.
If you make TV spots (and we do), craft them to work on all screens with minimal alterations. And try to convince clients to build substantial, valuable content to back-up and pay off the shorthand storytelling of these short, short films.
TV and the antiquated thinking behind TV are going down for the count one day, no doubt. But no one knows precisely when. The point is that saying traditional advertising is dead will not kill it. It must kill itself, a job it is doing very well. Meanwhile, there are useful ways to employ any medium with an audience, as long you remember that interrupting and annoying the audience is not engagement.