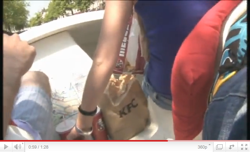 KFC's latest viral video attempt offers us a glorious "teachable moment." This effort is so bad it's…bad. It's the antithesis of Old Spice's masterful video response meme—the hottest thing on the web right now, advertising or otherwise. We are all worse people for this video. Bask in the glorious #fail after the jump.
Behold: 1 minute and 28 seconds of cringe-worthy acting, cheesy props and/or CGI effects, excessive vulgarity (for authenticity's sake!), blatant product shots, and conspicuous packaging. The greatest tragedy is that this short doesn't even achieve a modicum of camp value. It's just plain terrible:
On the opposing end of the spectrum is "Burger King Miracle Bun," a YouTube clip, shot via cell phone or video recorder (not convenient high-res like KFC's) that categorically gets it right. It's simple enough: A group of meddling teens discover an impression of The King toasted onto a burger bun in the haus of Ronald, à la Jesus toast. So what if it's being distributed using questionable marketed techniques? This is how you produce an anonymous viral video.
(In related news: you can now get your favorite NBA team's logo literally branded onto your breakfast. Is a BK unit not too far off? They've sold The King halloween masks in the past.)
Like Bros Icing Bros (read up on it here), it's so well done, and is so believable that you can't be entirely sure it was even created by the brand in question (aka: the point of this whole thing in the first place). For starters, it's a) set at a McDonald's, b) well acted, c) a feasible concept, and d) poorly shot.
Perhaps the most telling take-away is from KFC's fail, though: clumsily executed, exceptionally bad viral has a very real potential to turn harmful if traced back to the brand. Inherently a disingenuous marketing move, such efforts must make up for sleight of hand by way of humor, cleverness, and an eventual fess-up. When KFC employs f-bombs and s-words as a way of feigning integrity, they're risking their basic reputation as marketers and branders.
As big the gains are of viral (rapid spread, cheap cost of production, a day's worth of internet fame), the implications of a particularly soggy campaign will find the brander roasting in the wrong kind of attention.
Brands: It's grill or be grilled, here—don't find yourselves on the wrong end of the spatula.