At last week's first-ever Facebook Marketing Conference (fMC for short), Facebook officially announced the integration of four new products into their advertising model. These additions represent the most invasive placements on the social networking site yet. For the first time, they've placed ads within the previously untainted News Feed (on both desktop and mobile sites)—a move that speaks volumes of Facebook's new trajectory.
Facebook users don't often warmly embrace shifts in their social media routine, so it's only natural to wonder how Facebook's 845 million users will react to these game-changing announcements. What will it take to make sure these new ad formats don't backfire on branders?
A look at the four new ad types:
While news feed ads actually launched in January, the official announcement came at fMC. (Image)
Ads + News Feed: Integration or Infiltration?
The most notable announcement at fMC—besides Timeline for Pages, which was revealed shortly before the event—was the full launch of the news feed-fed advert. Yes, you can now experience the blissful feeling associated with forced advertisements from the comfort of your news feed!
Let's be real: this type of ad is nothing new in social media. We've seen similar solutions offered by Twitter for some time now (Promoted Trends, Promoted Accounts, Promoted Tweets), and blogs have long used advertisements between posts and paragraphs. But it's hard to see Facebook users readily embracing the new, similar style adverts. These ads actually make sense on Twitter—not so much on Facebook. Since they'll be brand new additions to a feature that's been used obsessively by millions for years now the spots are bound to feel more like interruptions than invitations to engage.
The Right Way
In reality, there are ways to make the new ad formats work, but it'll take careful consideration and the right brand. Jamming an ad into a person's social life is no more than traditional interruption-based marketing in a digital setting. It's not much different than a commercial or billboard. It's on a computer, but that's about the biggest difference. In order for this strategy to pay off, your messages are going to need to be seamlessly integrated into the news feed.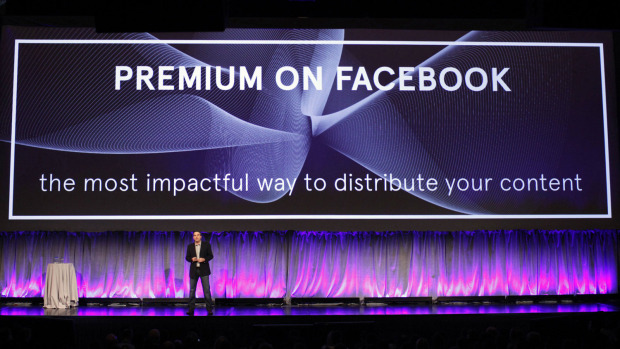 Disclaimer: Facebook is not liable for brand damage inflicted if ads are executed improperly. (Image)
How can these new formats be used productively? Through pitch-perfect editorial content and carefully considered media buys. If these newly integrated ads are going to have a chance, they will need to blend in fluidly and do their best to become a seamless part of the conversation. If done well, there is potential for these ads to grab a viewer's interest and to take more Facebook users to a company's page. Otherwise, it's too easy for a reader to scroll past an ad, especially if it's irrelevant. Worst case: the poorly done, poorly placed ad will anger the masses, leading to unlikes in droves and very active, very public disdain.
Signing Out?—But Wait, There's More!
(Image)
Another announcement for Facebook is the addition of log-out advertisements. When a user logs out, an ad will soon appear on the log-out screen. Facebook announced that around 37 million people log out of Facebook on a daily basis.
Reaching that large of an audience sure seems nice—especially for a freshly minted IPO—but every corner on every page doesn't need to be filled with ads. Sure, it's otherwise empty space, but is utilizing that empty space worth annoying potential consumers? Or is it just as (if not more) beneficial for Facebook to keep this page clean, making the site itself more inviting, leading users to interact more with the ads on their news feed?
With that said, one proposed advertiser, Bing, makes a little more sense for these log-out page ads. Chances are if a user is leaving Facebook they have something else to do. And if that something else happens to be a quick web search, the page is already right there. It's one example that actually works.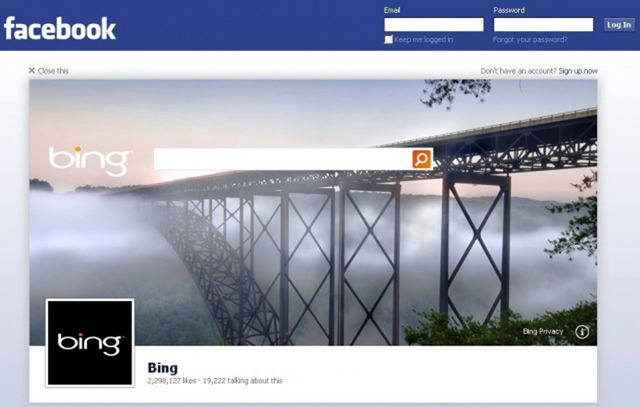 How Bing's placement on the Facebook logout/login screen looks. (Image)
Anger or Joy: The Choice is Yours
Inserting ads into users' social lives isn't going to be a boon by itself. It's not the silver bullet that unfocused, ill-equipped brands, blinded by the promise of social media, have been searching for. Making these ads engaging and seamlessly integrated into news feeds will be the key. If you can't pull that off, the ones you've spammed—because it's now truly spam—will be happy to let you know how they feel about it.
How do you think the average Facebook user will respond to the introduction of these new ad formats?
—
HAVE YOU REGISTERED FOR THE POST-ADVERTISING SUMMIT YET?
We'll be peering into the future of all things content marketing, advertising, journalism and social media at our Post-Advertising Summit, March 29th in New York City. We'll pull back the curtain and teach attendees how to truly unearth their brand's story. Speakers including Simon Dumenco (AdAge), Shira Lazar (What's Trending), Joe Pulizzi (Content Marketing Institute) and more will be on hand to share their expertise. In order to get the best price, reserve your seat at the Summit table today! Use code "PABLOG" for $100 off!