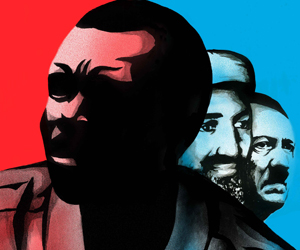 If you're a digital marketer who decided these past 10 days were the days you'd "completely disconnect from the digital world and find your analog-self," then you picked the wrong week.
Monday, March 5th saw the launch of the most successful viral marketing campaign in history, branded or otherwise. Nonprofit organization Invisible Children published their KONY 2012 campaign video, taking the social media world by storm. On the day it was launched, the video was practically unavoidable. It seemed nearly everyone posted it on every type of page and platform. With over 100 million views on YouTube and Vimeo combined in only one week, the video has reached iconic status as the most viral video of all time.
While the video has since sparked a powder keg of intense political debate, there's another side of this moment that shouldn't get lost in the arguments: Agree or disagree with the message, no one can argue that the marketing of the campaign is anything but outrageously successful. To help isolate lessons from the campaign that can benefit anyone trying to tell a story in social media, we spoke with Pat Walsh, co-founder and CMO of StayClassy.org, the social fundraising platform behind Invisible Children, for his insight on the campaign's virality.
Here are five lessons that brands can take away from Invisible Children's monumental social media campaign:
1. Stories Definitely Matter
With the video's success, predictably, came significant criticism, but there's no questioning the primary lesson learned from the San Diego-based nonprofit's experiment in social activism: Everyone (like every brand) has a story, and those who tell it best, win.
Invisible Children were able to turn their eight-year mission into a compelling story that pulled at the heartstrings of millions. They told the story in a way that nearly everyone watching the video could understand, regardless of age or knowledge. Some have argued that it was too naive, oversimplifying a complex problem. However, if Invisible Children were going to create a video that could both keep the audience's attention and spark a worldwide movement, the story had to be gripping and easy to understand to be effective
2. Don't try this at home
The knee-jerk reaction of most anyone who yearns for viral success is to try and replicate the idea. But this is no nyan cat. This video has been nearly a decade in the making, and the depth (and 30 minute length) of the story makes it difficult to replicate with any amount of success. "I have no doubt that the success of the video (seen by more people than any single TV show this week) will lead many organizations astray in the naive belief that they can emulate this one," said Seth Godin. "If a non-profit board decides to spend precious resources on a video hoping it will change the world in three days, I think they're misguided."
However, that's not to say that brands, particularly nonprofits, have no chance at creating a groundswell that effects change. "One of the greatest effects of KONY2012 is that it's inspired people to get involved and champion the causes they're passionate about - whether that's removing a 3rd world warlord or supporting something more personal to them," explains Pat Walsh, co-founder and CMO of StayClassy.org. "Hopefully the long-lasting momentum of this campaign will continue to drive young leaders to advocate on behalf of social and humanitarian injustices at every level throughout the world."
3. Define clear goals
Invisible Children's success put them under the microscope. Alongside their success, Invisible Children has faced harsh criticism in the last week over a wide range of issues, one of which questioned the effectiveness of the video.
While the video ends with a clear call to action to order action kits (at $30 a piece, or free with a recurring donation), Invisible Children has openly acknowledged that their overarching goal as a nonprofit (and the goal of the Kony 2012 video) is to raise awareness, and no one can argue that the video hasn't accomplished that. Opponents, however, have said that regardless of video views, this is pointless "slacktivism." Viewers watch, share, and go back to their lives having felt as though they were social activists for a minute. But the content itself shouldn't bear the burden of ROI. You can quibble about how much money it did or didn't bring in (they have run out of $30 kits), but that's not the point. The point is that a vast majority of the globe now knows about this issue and, most importantly, knows who Joseph Kony is. Invisible Children set out to make him famous, largely fueled by this video, and that's exactly what was achieved.
4. Give your audience clear calls to action
Creating compelling content can be very effective, but if you don't give your audience a clear call to action at the end, your audience's journey with your brand may end right there. Around the 22-minute mark, the narrator (co-founder Jason Russel) proclaims, "We know what to do. Here it is. Ready?" The final seven minutes lays out Invisible Children's goals and, specifically, what they want the audience to do:
Order an action kit
Donate a few dollars a month
Reach out to culture-makers and politicians to show that you care
On April 20th, paint your town or city with the posters and stickers in the action kit
Not everybody is willing or able to be deeply involved in an issue, but if you give your audience easy ways to begin their involvement with the project, they might find themselves becoming more passionate than they thought they were.
But sometimes asking isn't enough. You have to make it very easy for them to do what you're asking. If you want them to share your infographic with their social networks, make sure there are social sharing buttons nearby. If you want them to donate, show them exactly where they need to go to donate and even ask for a specific amount. The KONY2012 site makes it easy for people to tweet at the culture- and policy-makers with the click of a mouse (along with a pre-written tweet, which provides a thank-you if they've already tweeted).
But will this viral spread translate to real-world in time for the declared group action date of April 20? "I think it already has," Walsh says. "Invisible Children has brought an elevated level of awareness and a new call to action to a long-standing silent war. As a result of the campaign, media organizations like NBC Nightly News are sending teams to Africa to further investigate and build awareness around the issues. Politicians are coming out in strong support of taking action. Invisible Children's awareness tactics have led to tangible action in the past, and I think this latest campaign has the momentum to make their largest impact yet."
5. Ensure that your audience sees themselves in your story
When your audience can see themselves in your story, the burden of persuading them disappears. The Kony video had a variety of characters that made it easily relatable to viewers of all ages. When we saw Jason's son, we saw our own sons and/or daughters. When college-aged kids (the primary target audience) saw the video, they saw the hundreds of other kids who look just like them painting the streets with Kony posters.
Of course, you can't do this for every audience. This video had a negative reaction from those in the areas of Uganda where Joseph Kony's reign was the worst. That's an understandable reaction who those who have lived through true suffering, but to be fair, they weren't the target audience. Invisible Children targeted an audience that could immediately respond to their call of action to share, reach out, and donate. Judging by the rapid sharing of the video, it obviously resonated with the audiences they targeted.
Through all of this, it can't be forgotten that global storytelling has a long tail. If Rebecca Black is still getting work, then we can expect that Invisible Children's message will be around well into 2013 and beyond. It's this widespread success and awareness that may motivate politicians to act. It's not perfect, but the story is simply too effective to ignore.
For anyone trying to tell a story, the main lesson to be gained from the Kony campaign is to make sure your story is compelling for your target audience. Your brand may not create the next viral sensation, but that doesn't mean you don't have your own story to tell—you simply need to determine how to tell it in a way that captivates and compels audiences to share.
Why do you think the Kony 2012 video went viral so quickly? What else can be learned?
—
HAVE YOU REGISTERED FOR THE POST-ADVERTISING SUMMIT YET?
We'll be peering into the future of all things content marketing, advertising, journalism and social media at our Post-Advertising Summit, March 29th in New York City. We'll pull back the curtain and teach attendees how to truly unearth their brand's story. Speakers including Simon Dumenco (AdAge), Shira Lazar (What's Trending), Joe Pulizzi (Content Marketing Institute) and more will be on hand to share their expertise. In order to get the best price, reserve your seat at the Summit table today! Use code "PABLOG" for $100 off!