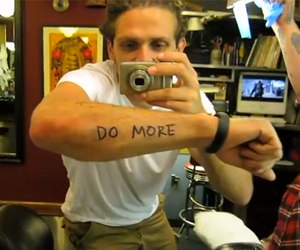 Time. We only wish we had more in the day, right? As technology has evolved over the years, the speed of our lives has increased exponentially. Interconnectivity has reduced our capability to stand tasks that demand a great deal of time, and the "normal" nine-to-five is simply no longer the norm. We get to work early; we work late. While in bed at night, we fight the urge to close our eyelids, instead opting to write one more blog post or send one more email.
So when it comes to advertising, it's almost laughable to think that audiences would ever have the time for long-form content—no less long-form branded content. Maybe a 30-second spot could slip by, but audiences would never find 20 minutes to watch a sponsored video and then spend another 10 sharing it with their networks, simply because they loved it, right?
Who has the time?
Nobody, it would seem. Not that we ever really did, but still, just a few decades ago, it was difficult to avoid interruptive marketing. We couldn't fast-forward over television commercials. We couldn't opt to "skip this ad." We couldn't pay for commercial-free radio. We couldn't see that it was a telemarketer calling us during dinnertime. But now it's easy to ignore marketers, so much that we have little, if any, patience for marketers when we're exposed to advertising.
In the post-advertising age, this is what we call the Free-Time Paradox.
If you look at the graphic below, the yellow dot is the audience being battered by "messaging" and conversion efforts. Over time, as a result, they've put up their blinders and gone into defense mode. They certainly don't have 30 seconds for an interruption.
However, when audiences are exposed to content that is valuable, entertaining, emotive and simply enjoyable—even if it's branded—they miraculously have 30 minutes to watch and then share the content with their own audiences. And, as Mark Scaefer remarked at our recent Post-Advertising Summit, "we are an audience of audiences."
So, in the image above, the audience not only accepts the message, but spreads message—often without prompting, and on their own accord.
Truth is Stranger than Fiction
According to a recent study by Time Warner's Time Inc. and Boston's Innerscope Research, audiences in their twenties switch media venues about 27 times per nonworking hour. Meaning, in essence, that one of the most valuable demos—twentysomethings—is also one of the most elusive and distracted.
This seems to be a perfect formula for the failure of long-form content: Marketing to audiences seemingly without attention spans, who have little free time and an aversion to branded content.
But long-form content, when done effectively, is thriving. Here are a few examples:
Nike Fuelband
Whether it's brilliant foresight or dumb luck, Nike hired filmmaker Casey Neistat to "create a movie about what it means to #makeitcount." #Makeitcount is the hashtag used for their Nike Fuelband campaign. Instead of making a run-of-the-mill brand flick, Casey and his buddy Max spent the film's entire budget to travel the world. The trip lasted them 10 days, and the resulting video (almost five minutes long), published a little more than a week ago, has amassed nearly 4 million views.
Chipotle
Forgoing a spot on the Super Bowl, Chipotle opted for the more cost-efficient 2012 Grammy Awards to premiere their first national TV ad—sorry, "short film." Clocking in at over two minutes, the placement "depicts the life of a farmer as he slowly turns his family farm into an industrial animal factory before seeing the errors of his ways and opting for a more sustainable future," according to the YouTube description. Two-minute commercials are rare, but the spot was so successful that it even upstaged some Grammy performances that night.
HBO Sports 24×7
As a sports fan, one phenomenon I've seen in the last few years has been the mini-documentaries leading up to a sporting event. HBO Sports' 24×7 series has chronicled the lead-up to a number of high profile boxing matches, including the likes of Manny Pacquaio and Floyd Mayweather (though not against each other). The UFC has begun a similar version entitled UFC Primetime. The episodes feature behind-the-scenes footage of the fighters training for the bout, as well as interviews and storylines that create a deeper understanding of who these athletes really are. While entertaining, there's no doubt about it: these are long-form advertisements—teasers, if you will—for pay-per-view events that complete the story.
KONY 2012
The new poster child for branded viral content, we wrote extensively about the KONY video last month. While the nonprofit is not without its detractors, the video, clocking in at nearly 30 minutes, boasts over 87 million views to date. The filmmakers, Invisible Children, used compelling storytelling techniques to weave a narrative around their brand story. They encouraged audiences to view, share and act.
Breaking the Barrier
Reaching modern audiences isn't as simple as buying a Yellow Pages ad or sending door-to-door salesmen around the neighborhood. We all know that. However, that's exactly why valuable brand content is so critical. Only by producing great content can the Free-Time Paradox work to a brand's advantage.
Sure, long-form branded content isn't cheap or easy to create, but it can tell a rich, impactful story that'll pay dividends short-form blips can't touch. It may seem as though audiences have less time and patience for marketing, but stories are powerful enough to break through those barriers. Consumers may not have 30 seconds for an ad, but they do have 30 minutes for a great story.
With brand-run film production houses up and running (get a load of BMW Films or Lexus L Studio) and episodic, story-rooted content on the rise, the future of media consumption looks long, involved and invested.
What other long-form branded content examples have you seen and shared?