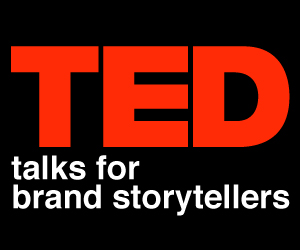 TED talks are a gold mine of knowledge. Because the TED website's topics include not only technology, education and design (TED) but also business, science, activism, health, storytelling and everything in between, one can get lost on the site for days.
A number of these short talks (most are around 20 minutes) revolve around storytelling. While they don't necessarily address brand storytelling, they do offer insights that a brand could apply to its efforts to engage audiences through its brand story. I've gathered four talks I found particularly useful, and I've included a brand takeaway for each. Enjoy!
1. Andrew Stanton—The Clues to a Great Story
Filmmaker Andrew Stanton knows a thing or two about effective storytelling and breaking storytelling conventions. But no matter the type of story, one rule remains: the storyteller has to make the audience care. Stanton draws on his experience at Pixar as well as his own life to explain what makes a good story, why the audience wants to be put to work, and the roles of drama, anticipation and uncertainty in a gripping story. If for no other reason, watch the talk to hear a great opening for a presentation.
What brands can learn from this talk
The success of a brand, at least from a marketing perspective, isn't defined by a collection of isolated events, executions or campaigns. Instead, it is determined by how well the brand exists over the long haul—how effectively a story can be woven around the brand and told in a way that makes the audience care, propelling them forward and enticing them to "read on" (so to speak). "If things go static, stories die, because life is never static," Stanton says.
Ensure that your brand is consistently creating content, whether it be Facebook posts, tweets, an email newsletter or videos. You've heard the saying "Keep your audience engaged" time and time again, but it's imperative for your brand's ongoing narrative. When your content ends, so too does the act of telling your brand's story. 
2. Chimamanda Adichie—The Danger of a Single Story
Novelist and storyteller Chimamanda Adichie, a native of eastern Nigeria, has learned firsthand how listening to only one story can lead to critical misunderstandings. She tells of how her U.S. professor felt that her portrayal of Africans in a novel wasn't authentic, because they were well-fed and driving cars; and of her own guilt when on a visit to Mexico, she realized that her belief in the story of Mexicans sneaking across the border and fleecing the U.S. health-care system was far from accurate. Stories are powerful, but they can create untruths when they become the only story.
What brands can learn from this talk
Stories can and often will define a brand, for better or worse. While it is important for a brand to unearth its story platform—the story at the heart of the brand—and tell it in ways that inform and excite, hearing only one such story can cause misunderstanding—even if it's a good story. Audiences hearing a single negative story can receive an even more destructive message.
If you believed the single story of energy drinks as a category, you'd believe that all brands are selling a glorified concoction of caffeine and sugar. But Red Bull has a vise-like grip on its brand story—about living life to the fullest—thus propelling them to social success and incredible brand affinity. 
As a brand marketer, you must ensure that your audience hears a variety of relevant stories and forming ideas and opinions about those that come from the brand itself. That means you'll have to not only create content but actively engage with audiences, particularly negative ones, to steer all conversations toward the truth.
3. Karen Thompson Walker—What Fear Can Teach Us
Walker, a fiction writer, explains that fear is a kind of unintentional storytelling we're all born knowing how to do. We imagine our own futures, accurately or not, by creating stories. Doing so can alter the paths we choose to take. And as is evident in the story she tells of the shipwrecked sailors, how we read the stories we create in our minds can determine whether we achieve our desired outcomes.
What brands can learn from this talk:
Creating content worth sharing often requires faith and courage. Few brands are brave enough to go out on a limb, and instead create uninspiring content that prevents most people from reacting in any way, positively or negatively. It's the fear of the unknown and the stories that brand managers create in their minds that bind their creativity and limit their spontaneity. What if the content is too edgy? What if the article ruffles too many feathers? Won't responding to the irate customer's Facebook post just make the problem more obvious?
Instead of fearing the unknown, take a look at the types of content and brands that have succeeded in the post-advertising age. From Red Bull to Oreo and Warby Parker, the brands that aren't afraid to push the creative envelope, embrace unique and innovative marketing techniques and actively (and equally) respond to customers' praise and criticism are the brands that have succeeded.
4. Joe Sabia—The Technology of Storytelling
In less than four minutes, iPad storyteller Joe Sabia introduces the audience to Lothar Meggendorfer and explains how Lothar's invention of the pop-up book is helping us tell stories today. He also makes me realize that I'm underutilizing my iPad.
What brands can learn from this talk
"The art of storytelling has remained unchanged…but the way in which humans tell the stories has always evolved, with pure consistent novelty," Sabia says. Emerging technology has allowed brands to tell stories in many ways. Consider all the storytelling options available to your brand. You aren't required to embrace and be present on all channels, but don't limit yourself to traditional mediums because that's all you know. There are so many tools available that are more effective and less expensive than traditional, interruptive means, and inevitably there will be even newer tools that have yet to be imagined.
5. Author Edit (1/31/13): J.J. Abrams—The Mystery Box
Ack! What a gross oversight! In the initial publishing of this post, I completely overlooked this fantastic talk by J.J. Abrams. It was one of the first TED talks I saw that addressed storytelling. Abrams grips the audience with his personal story about the mystery box and his passion for the infinite possibilities that lie in a story. 
Which TED talks did I miss?