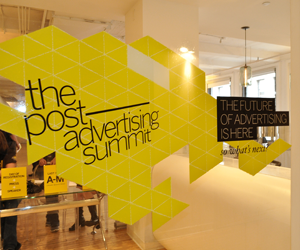 Since 2008, we've been charting the evolving landscape of marketing and discussion the future of advertising at this blog. For the better part of the last decade, Story Worldwide (who keep the lights on here at Post-Advertising) has been helping brands unearth their story and tell it across a wide variety of channels, both on and offline.
Few editorial outlets put these ideas into action, in real life, alongside fellow industry colleagues. But last Thursday, March 29th, we finally brought Post-Advertising readers, Story leaders, storytellers, agencies and brands together to not just write, but actually prove, that the path towards and through the future of marketing is paved with storytelling. More about what unfolded after the jump.
The inaugural daylong event was structured to be everything but your usual marketing conference. Instead of an onslaught of individual speakers providing thinly-veiled sales pitches, we focused the day around six distinct one or two hour sessions - a morning keynote by Ad Age's Simon Dumenco; two panels (morning and afternoon) hosted by Return on Influence author Mark Schaefer and What's Trending? host Shira Lazar, respectively; and two interactive storytelling workshops where the attendees worked directly with the Story creative team to create real pieces of content for two brands: Weekly World News and The Blue Man Group.
A Day Like None Before It
Story COO Simon Kelly's welcome address set the theme for the day. "Traditional methods [of advertising] aren't working as well as they used to," he explained. "Brands have to become publishers. They have to know their stories. And those stories have to be authentic."
Well said.
Dumenco opened the day with an enlightening talk about how we're all our own media empire, including a humorous anecdote about how the speed of media, Twitter in particular, is actually faster than the shock waves of a Virginia earthquake.

After Dumenco delivered the keynote speech, we began our morning panel. Mark Schaefer hosted the session where Michael Margolis (President, Get Storied), Steven Kotok (President, The Week) and Andrea Miller (CEO, YourTango) discussed the future of information in the post-advertising age. They determined that it's important to invest in social media if you expect to have any presence or influence through these emerging channels. But, Margolis argued, "The moment you wear the label [of authenticity] on your sleeve, you become suspect." I.e., don't say you're the real deal: Be the real deal.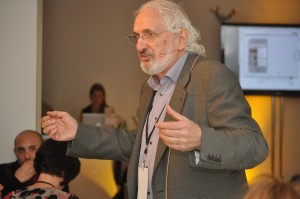 After lunch, Professor Jerry Wind revealed the results of a Wharton School Future of Advertising Project study called "The Secrets of Viral Ads," which explained why certain ads are more likely to spread than others. The factors? As he concluded, they need to be surprising, cute, creative and emotional. He then asked the audience to break into groups to brainstorm an idea that could go viral. (One response: a kitten that speaks in a deep, husky voice. Did I mention it was a fun day?)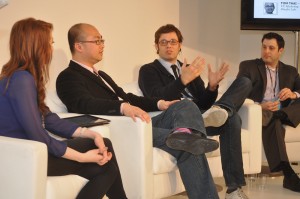 Our afternoon panel focused on the future of entertainment. Shira Lazar led Tom Thai (VP of Marketing, Bluefin Labs), Josh Richman (VP of Marketing, WGN America) and David-Michel Davies (Webby Awards/IWNY) through the hour-long session. The group discussed the uncertain road ahead. "Nobody knows what they should be doing," Davies said. "There are so many options, and it's really difficult to figure out what your audience wants." But they also concluded that people weren't watching less TV; they were watching more video (via the internet) at work—something they could never do before. The entertainment industry wasn't far from the point where you'd be able to turn on the TV to watch cable or online videos.
Interactive Storytelling Workshops
Perhaps the audience's (and my) favorite parts of the conference were the two workshops: "A Useful Piece of Content" in the morning and "A Creative Piece of Content" in the afternoon. These workshops, cornerstones (can you have multiple cornerstones?) of the event, is what truly made this different from every other marketing event. Instead of just talking about the past, present, and future of marketing, we attempted (successfully, if I may say so myself) to put pen to paper and help two brands find their story platform and actually execute that story with a real piece of content developed in real-time by the Story creative team.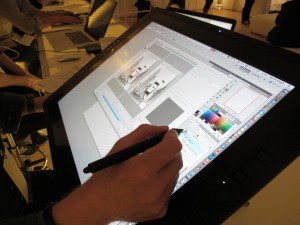 In the first we took the Weekly World News through our strategic process to find it its Story platform. Led by Joe Pulizzi, founder of Content Marketing Institute, the group voted on its brand archetype ("The Trickster") and debated over the platform. In the end we arrived at "Unreal Fascination." Then the creative team took to work! They storyboarded an iPhone application that allowed followers to get real-time updates of unnatural occurrences in the area. See the output below:
The afternoon workshop was sponsored by the Blue Man Group and led by Votiv President Randy Irwin. BMG's creative director Puck Quinn got us started by introducing who and what the Blue Men really were. Then we entered our metaphor process: "The Blue Man Group is like X because Y." Some gems were "The Blue Man Group is like a brain, because it makes connections," "The Blue Man Group is like a tattoo, because you wake up and it's still there" and "The Blue Man Group is like wine, because it never tastes the same to two people and makes you feel differently." And what did we create? Take a look!
From the beautiful setup at the Cult Studios to the open-minded, interactive nature of the obviously forward-thinking audience, the event was nothing less than a smashing success (and really fun time!). "I'm blown away by the caliber of attendees that joined us at our very first Post-Advertising Summit," said Jon Thomas, Story Worldwide Communications Director and producer the event. "The audience as a whole became an extension of each session, asking insightful and thought provoking questions to our panelists and fearlessly diving headfirst into our hands-on workshops. I couldn't be happier with how the day turned out."
Real-Time Conversations, Outputs and More
The live conversations during the Summit were followed virtually via the #PASummit Twitter hashtag. The highlights of the hashtag have been curated on Storify, which you can see here.
Along with the workshop outputs, Simon Dumenco's Keynote presentation and Jerry Yoram's viral video study findings can be found on our SlideShare page.
Thank you!
On behalf of the entire Post-Advertising and Story Worldwide staff, I want to thank all of you who took part in the event. It's a big step forward for content marketing and brand storytelling. Till next year!