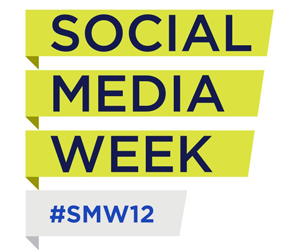 It's time to get your Twit on and fire up your Facebook! Social Media Week London is back and it promises to be bigger and more collaborative than ever.
For those of you who don't know, Social Media Week returns to London for it's fourth consecutive year from 24th – 28th September 2012. Hosted by Chinwag, this year's theme is Empowering Change Through Collaboration. Digital dons and social-savvy client-siders will reflect on the global impact of social media and its role as a catalyst in driving cultural, political, economic and social change.
The last Social Media Week took place in February and proved to be the biggest conference to date, with participation from more than 36,000 attendees, across 1,000 individually hosted events and with 2,500 speakers driving the conversation in 12 cities.
It's not often that you find yourself at the centre of such a huddle of hash-taggers, but this year Story Worldwide will be right there tweeting, pinning and blogging our way through the heart of the discussion.
Of course, it wouldn't be very Story of us not to create a little content and conversation ourselves. So we're putting on our own afternoon of storytelling to share our proven approach to propagating socialised narratives across the web. 
You can register to attend our event, held at our Farringdon office in London on Wednesday 26th September, here: Storytelling for Brands. From the world's first Post-Advertising Agency.
We couldn't possibly list every event scheduled in 140 characters but we do have some top picks from the events in London that you might want to check out. Many events will be streamed online if you can't make it or you can get real time updates using the #SMWLDN hash tag on Twitter.
Fresh from six years at the digital and social helm of LOCOG, and after a busy couple of weeks over the Olympic and Paralympic Games monitoring over 400 million clicks across digital channels, Alex Balfour is gearing up to share his experiences and tell us what he learnt from hosting the world's "first social Olympics."
We Are Social have gathered together some of the most innovative, and progressive FMCG brands operating in the social space to discuss the fine line between social media success and suicide. How do these brands avoid death by Edgerank? Is Google+ really a minus? Will social commerce be a commercial success for them? With an open panel, this one could get (p)interesting.
Social Media Week wouldn't be complete without a morning spent discussing the future of Facebook with friends and fans alike. This session, hosted by Betapond, will bring together fans and foes of, arguably, the world's most important social network to discuss what will happen over the next couple of years as it continues to float (or sink) on the stock market and sails ever closer to one billion users.
Man your Smartphone, clear your diary, set a short cut for #SMWLDN and get involved. We'll tweet you there. Visit the Social Media Week Official Website to find out what events are taking place near you, and when.