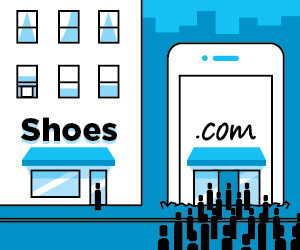 This post originally appeared in our July '13 issue of "Live Report from the Future of Marketing," our monthly Post-Advertising newsletter. Subscribe for free here.
My wife and I have a baby on the way. Literally any day now he or she (we don't know which) could arrive. We're as excited and terrified as all first-time parents are, fully aware that our lives will utterly change but unaware of exactly how. 
I've depended on my wife to lead me through these past nine months. Go to this doctor's appointment. Paint the nursery. Install this light. However, as a bit of a techie, there were a few things I was excited about, and I was giddy to be given the reigns to buy our first high-end camera.
We've owned a few point-and-shoots but never one of those cameras that seemed to take perfect pictures no matter how oblivious the operator is to how a camera actually works. I didn't really know what I was looking for, which gave me a great opportunity to use myself as a sort of case study in the retail phenomenon. I paid attention to how I sourced recommendations, where I could learn the most about the products I was considering, which sites offered me the best deals and where I ultimately purchased the camera. 
The results of my impromptu study are fairly inconsequential and too small of a sample size to consider as anything scientific. But what I did notice is that I never really considered going to a store to pick out a camera, and I know I'm not the only one. 
Why didn't I consider shopping at a brick-and-mortar store? In short, it all came down to information, and traditional brick-and-mortars have been too slow to adapt to the changing ways in which consumers shop, providing anxiety-ridden, confusing and often unsatisfying shopping experiences. But I don't think it signals the end of brick-and-mortar retail. Actually, digital might just be it's savior. 
The Downfall of Brick-and-Mortar
To shop for a camera right now was a bit serendipitous since last week I tuned in to an incredibly interesting edition of Mitch Joel's "Six Pixels of Separation" podcast in which he interviewed Doug Stephens, founder of Retail Prophet and author of The Retail Revival, about the future of retail. In case you didn't hear it, take a listen here. It's fascinating.
In the episode Stephens and Joel discussed shopper marketing, how mobile has changed retail, Amazon's effect on retail, and lot more. But toward the end of the interview, Stephens hit on a point that had me saying "Yes! Yes!" in my car as I drove.
"It's not about price." 
Most of the discussion about why online retailers, led by Amazon, are putting many brick-and-mortars out of business revolves around price. With lower overhead costs, it makes sense that online retailers can always beat a brick-and-mortar on price, and for certain items, that may be true. But that isn't always the case.
A study conducted last summer by Kanar Retail, a London-based research firm, found that on average Amazon's prices are 20 percent higher than Wal-Mart's in-store prices. Not only that, but Target is cheaper than Wal-Mart, and Best Buy's prices are only marginally (about 4 percent) higher on average (though you don't have to wait for shipping, so often it is a wash). Best Buy has also instituted its "Low Price Guarantee," which will match prices both from other brick-and-mortars as well as online retailers, including Amazon.com and Apple.com. Target has done the same as well.
So if prices are even, why are so many brick-and-mortars closing up shop? Why do consumers so often choose to buy online?
"It's about information."
Take note, brick-and-mortars. Consumers are most often going online to make their purchases because that's where the information is. Sure, sometimes the prices may be better and it's great to order sneakers and a computer in your pajamas, but ultimately consumers simply want to know that their purchase decision is the right one. 
In our interconnected world where information is a Google search away, the need for an informed purchase is paramount. Too often retail associates at brick-and-mortars are simply neither trained well enough nor knowledgeable enough about the products that they're selling. Traditional retail is broken. 
Digital in Retail: Closing the Gap
In the downfall of brick-and-mortar retail, the finger is pointed squarely at digital. Customers are often using stores merely as showrooms, seeing the item in person only to end up buying it online (for a variety of reasons, not just price, as we discussed earlier). There are also mobile apps that will price-check items right in the store through the use of a barcode scanner and point the shopper to where they can purchase the item online. No doubt someone has purchased a TV online even as they stood in front of the same TV in a store.
These technologies are literally cutting the legs out from underneath the brick-and-mortar retailers, and it's surprising that the retailers are so slow to react. Brick-and-mortar retailers are lagging in terms of arming shoppers with the technology to make an informed purchase, but it's not for lack of options.
Apple led the charge in redefining "retail," opening its own stores and creating an experience first and selling the products second (or even later than that). Said Stephens, "The [Apple] store becomes the living, breathing animation of the brand. What they sold [at the store] was the brand. The experience that the brand represented."
Brands such as Audi, AT&T, JPMorgan Chase and Pep Boys are investing heavily in technology to make the in-store experience more fun, more informational and less stressful. In the Audi store you will be able to use iPads to build and customize your own vehicle (tablets are a popular trend in retail environments). The AT&T flagship store in Chicago features a giant interactive screen with motion-sensory software for game playing. JPMorgan Chase is creating "advice zones," self-serve kiosks and instant-issue credit card machines (no more waiting seven to 10 business days).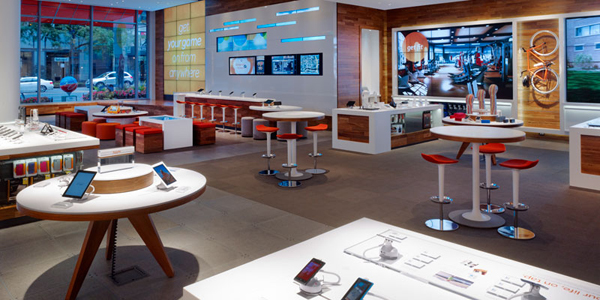 With 90 percent of retail still taking place in brick-and-mortar stores, there is definitely value in having a hands-on presence. Just ask Warby Parker, an NYC online startup (and Post-Advertising favorite) that redefined the prescription eyewear retail space with its "home try-on" program and whole-hearted embrace of social media. They've recently opened up three brick-and-mortar locations in New York City and Boston. However, it wasn't about creating new avenues for purchase. "At the end of the day, we're trying to provide the best possible experience for our customers, and that means offering our glasses where they like to shop," Warby cofounder David Gilboa said on Adweek.com. 
There's still a lot of room for growth for digital in retail, far beyond iPad-toting associates. With GPS technology in nearly every phone, there are ways to help shoppers navigate the store and find products more easily, while presenting them with coupons at the moment they approach a product. There are needs to simplify shopping lists and alert shoppers when products are or aren't in stock (before they arrive at the store). It's cliché, but the opportunities for retailers to arm their customers with convenience, value and fun through digital are endless. 
Physical, Digital and Beyond
The path to purchase is an extremely fragmented, nebulous trail from brand awareness to the transaction, wherever that may take place, and beyond (to loyalty or even evangelism). Consumers are becoming less and less predictable while gathering more control (and rightfully so) of the messages they're exposed to on a daily basis. Brands need to view this path, this customer journey, from start to finish, ensuring that their brand values carry throughout. That means understanding the varied ways audiences are exposed to your brand, how they prefer to engage, and what compels them to buy.
The traditional ways of retail shopping are changing. They have to. It's not that there's no use for brick-and-mortar shops (heck, even Amazon is considering physical spaces), it's that these spaces are greeting modern-day shoppers with antiquated retail experiences. We'll see which brands are motivated to change and which brands need some extra "Going Out of Business" signs.