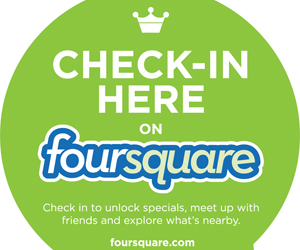 I'm a social media early adopter. I should be, considering I write for a digital content marketing agency's blog. I post photos on Instagram, share thought nuggets and articles on Twitter, argue on Facebook, capture looping slices of life on Vine (and now Instagram Video) and check-in using geolocation apps.
The manner in which I, along with millions of others, experience and share life's moments is decidedly different from the way we did a mere decade ago. But that's the way life goes, and technology is changing how we live on a daily basis.
However, if my recent trip to a local restaurant is any indication, merchants aren't getting the message. Many of them are so slow to adapt that a simple redemption of a Foursquare perk can turn into a confusing, annoying, anxiety ridden encounter, inevitably resulting in customers being afraid to embrace the technologies intended to create a better, more rewarding experience. 
Lost in Translation
My wife and I recently headed out to dinner at a well-known national restaurant we frequent often. Being the iPhone-toting social media enthusiast I am, I decided to check-in on Foursquare. This restaurant is quite forward thinking in their social media efforts, so I wasn't surprised when I was rewarded for my check-in with a free appetizer as part of a Foursquare "Loyalty Special." The coupon didn't give any restrictions other than that it was valid with any purchase, only at participating locations, etc. It gave me no specific instructions for redemption, so I figured it was as simple as flashing my phone to the waitress (something that I've done on numerous occasions to redeem Living Social perks). 
Upon the conclusion of the meal, I showed the waitress my iPhone with the coupon. She was utterly confused. Fair enough. Maybe she had just started or she was just never trained on how to handle these. She walked to the back to talk to her manager (she didn't take my phone as proof, which I would have been fine with). She came back a short while later with the unfortunate news that the restaurant manager would not be honoring the coupon and that we'd be charged full-price for the appetizer we ordered only because we thought it was free. He didn't come out and tell us this to our faces, nor did he give a reason why. He never even saw the phone. I could only assume he was completely unfamiliar with Foursquare and its incentives to check-in. The waitress mentioned something about "emailing restaurant for a coupon" but I knew that wasn't true. We left quietly. I didn't put up a fight, nor did I take out my frustration in the waitress's tip (her service was just fine). I knew that if I reached out to the restaurant's official Twitter handle that they'd take care of me, and they did. So why am I writing a blog post about this? 
It Can't Just Be Me
You have to know me first to understand why this is a big deal to me. If any of my close friends are reading this, they're about to get a chuckle because they know exactly what I'm talking about. I hate awkward situations, particularly at restaurants. I never ask questions, never order off-menu and rarely complain. If the food or service is so bad that we have to complain, I make my wife do it while I conveniently head to the bathroom. This happens 100 percent of the time. I have no shame.
But as someone who uses geolocation apps, daily deals sites and all the other social media technologies that empower local establishments to attract and reward customers, I often have to redeem things via my iPhone. Some are seamless and require no person-to-person interaction, like Foursquare's integration with American Express (use your card at the establishment and a certain dollar amount is deducted from your credit card bill). But most require a slightly uncomfortable back-and-forth with an employee that probably doesn't know how to handle the transaction. I show my phone. They look confused. They grab a manager. Together, they look confused. It gives me major anxiety. I'm almost sad when I check in to a place and get a reward because now I have to use it.
I know I'm overly sensitive to situations like this, but I can't be the only one who is hesitant to use technologies like this mainly because the people working at those establishments likely aren't trained to properly handle (and encourage the use of) the perks therein. Coupons and offers aside, if emerging technology isn't embraced by the employees representing the brand, why would an individual be motivated to share their experience with their social networks at all?
What makes it more unfortunate is that there's obviously a lapse in communication between the marketing departments working with the apps and the employees required to fulfill the rewards. 
A Restaurant Doing Social Right
I don't want to imply that all merchants fumble the ball when it comes to apps and perks. One of the most innovative restaurants in the social media space is a small Milwaukee burger joint called AJ Bombers, founded by Joe Sorge. We wrote about Joe and his restaurant in 2011, but in 2013 people are still writing regularly about his innovations and you can even find case studies on his success. AJ Bombers was one of the first venues to organize a Foursquare flash mob (which brought 150-plus customers through their doors) and was featured on Food Wars (and won). 
Noted marketer Chris Brogan sat with Joe for a short three-minute YouTube interview that's well worth the watch. The fact that the interview is three years old doesn't date it; it makes it more impressive. I'm writing an article about merchants having trouble adopting social media technologies and he has been doing it for more than three years. 
Keep Up
Social media and mobile technology are moving too quickly for retailers, restaurants and other brick-and-mortar merchants to risk a miscommunication or to decide not to embrace the change at all. The social and mobile tools that were originally for broadcast are finding ways to entice potential customers to not only to share their experiences but to find and frequent these establishments in the first place. As smartphones and location-based apps improve, the possibilities of digital enhancing in-store experiences seem endless.
Ignorance is a slippery slope and far riskier than spending 10 minutes training your staff how to handle social rewards.