Make no mistake about it. The launch of Instagram Video (wholly owned by Facebook) is a shot across, if not directly into, the bow of Vine's ship (wholly owned by Twitter). Instagram's already established community of 130MM members has given Instagram a major jumping off point for its video feature, which is built into the popular photo-sharing app.
But Vine isn't dead, and Instagram will not be a Vine killer. In fact, I think Vine offers brands something unique enough that it can thrive alongside Instagram video. 
More after the jump.
Welcome Instagram Video
Instagram's new video feature allows users to share videos up to 15 seconds long with the ability to pause and resume filming throughout the clip (similar to Vine). After filming, the user can apply one of Instagram's 13 filters and share to Facebook, Twitter, Tumblr, Flickr, Email and Foursquare (all the same places you can share a standard Instagram photo). Unlike Vine, Instagram's video can natively play within a user's Facebook feed, making viewing and sharing much easier and more likely for audiences. On the flipside, Vines can natively play within tweets, but Instagram videos cannot.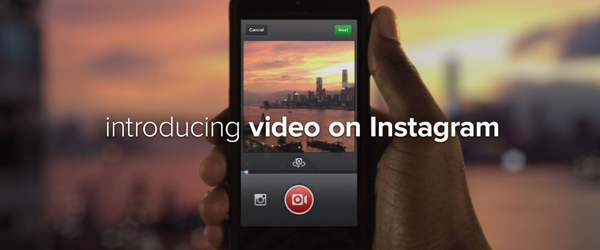 Instagram video is a welcomed entry into the video-app space. Before Vine, many apps like SocialCam, 12 Seconds and even TwitVid failed to capture the opportunity for mobile video sharing. With the backing of Twitter, Vine took off earlier this year with brands jumping aboard and creating some impressive and useful stop-motion videos. But Vine's choppy, brief, looping videos don't fit the mold for everyone trying to capture life's moments on film. Since Instagram video is simply an add-on feature to the standard Instagram photo app, users don't have to join yet another social media platform, ask their friends to follow them and slowly but surely gain an audience. For brands that have already put in the legwork to build an Instagram audience, they now have an audience for their videos as well.
Why Vine?
If you asked me to choose between Instagram Video and Vine as my personal video sharing platform of choice, I'm choosing Instagram. But I'm speaking as an individual user with a small, close-knit community of Instagram followers, nearly all of which I know personally. I'm not interested in art-directing life's spontaneous moments into a Vine. I'd rather hit the button and just record. 
But if you asked me as a brand strategist to choose between Instagram Video and Vine as my video sharing platform of choice, I'm choosing Vine. I'm not disregarding Instagram's user base, it's 15-second time limit being a similar length of ads and how nicely it plays with Facebook. However, when a brand is tasked with creating compelling content that people will enjoy and share, creativity and originality is key. Vine's limited length forces creativity. If your Vine isn't creative, it's most definitely going to be ignored. Also, it's already established as a great stop-action platform. Said actor/filmmaker Adam Goldberg, one of Vine's most prolific users, "…it doesn't have that stop-action quality that [like Vine] lets you create weird Lynchian dreamscapes." If you want to see some of the more creative brands on Vine, check out the aptly named site Brands on Vine.
Put the Gun Down, Instagram
If you've got the time, I can point you to a number of articles here, here, here and here, that wonder or even proclaim that Instagram Video will be a Vine killer. I don't question that Instagram Video's presence will slow the growth of Vine, but Vine has established deep roots (pun intended!) and it's going to take a big axe to bring it down (no more puns, I promise). Size aside, Vine will survive the Instagram onslaught because of the content creators, including brands, which have embraced its creative nature. For them, Instagram doesn't offer any added or new functionality. Not only will Vine and Instagram coexist, Vine might just be your best bet for creative branded content. 
What do you think the fate of Vine will be? Let us know in the comments.