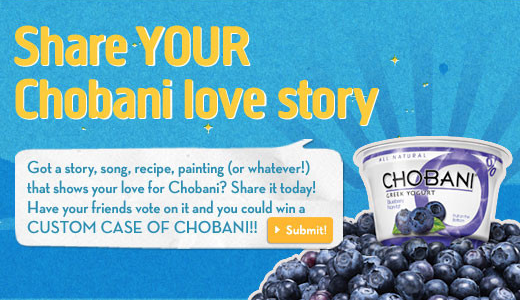 Greek yogurt has quickly become the red bottom stiletto of the dairy world. It's suddenly "cool" to be seen eating this thick, creamy yogurt, and brands are eager to capitalize on this new-found caché. Chobani is perhaps doing it better than anyone by allowing yogurt fans to speak for themselves.
Chobani, one of the most popular greek yogurt brands, has embraced digital storytelling by embarking on its first ever national advertising campaign. Launched on Valentine's Day, Chobani's Real Love campaign leverages the brand's passionate customer-base with television spots, out-of-home placements, and social media, all featuring "real stories from real Chobani lovers."
In their "Cho Theft" commercial, Stephanie Lane, a real Chobani lover from Richmond, VA, has her Chobani yogurt stolen from the refrigerator at work — surely something we can all relate to. The spot goes on to show how she now hides her daily treat from nefarious coworkers.
Stephen Wright, another Chobani lover and Eli Manning look-alike, was featured in Chobani's  "Cho Bike" commercial, which documented his early-morning 80-mile bike ride to the Chobani factory. They even created a cute "behind-the-scenes" look at the making of their videos, which shows just how real — and nervous — the stars of the commercial are.
Chobani's billboards even add some social flair by featuring actual tweets from fans, including the Chobani lover's own Twitter handle.
Where the campaign gets truly post advertising is on the brand's Facebook page where fans can share their "Chobani love story" via videos, images, and text. On their Real Love tab they share that week's most beloved fan submissions from across the globe (the photo to the right is one of my favorites).
User submissions can be as simple as a photo from your webcam or as creative as a video of a man singing opera about being "King of Chobani." Other users can then vote on the images and the most "liked" story gets a free case of Chobani, which the winner can customize with their favorite flavors.
Though utilizing user-generated content (UGC) isn't a new idea, Chobani's efforts stand out because they're finding innovative ways to reward the real people that share a real love for Chobani. These are the folks who are  most likely to become brand evangelists (if they aren't already). Each week's Real Love Story winner is featured as part of the brand's profile picture on Facebook, while a select few get to recreate their love stories by starring in Chobani's nationally televised ads. Maybe it's just me, but that sounds cooler than having a pallet full of Wheat Thins dropped off at your doorstep.
For consumers, the most trusted brand marketing comes in the form of recommendations from people we know. It's been that way since we stepped foot in school and started wearing what the popular kids were wearing. However, according to Nielsen, the second most trusted form of advertising is a recommendation online from a complete stranger. We trust a complete stranger before we trust what a brand is saying on their own website.
By giving a confessional platform to yogurt fans to demonstrate the emotional connection between consumer and brand, Chobani is providing social proof — the most powerful form of advertising available. This could have flopped if Chobani's fans weren't as passionate or didn't get as involved as they have so far. The brand took a risk and it appears to be paying off.
We believe that people can have emotional connections with brands by leveraging digital storytelling. If you're in the UK, consider stopping by our London (Primrose Hill) office on March 24th for our free seminar on Social Media for FMCG. Learn more about the seminar here.