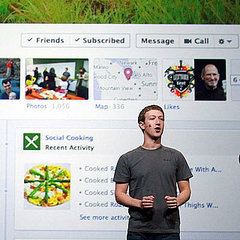 There was much hand-wringing when Mark Zuckerberg took the stage at the f8 conference to unveil new changes to Facebook. I don't want my profile to change! I don't want to share so much personal information! And, for brands in particular: I just learned how to use Facebook to market my brand—what do I do now?
The good news is that the days since then have shown that change, while it will always frighten some people (an effect that seems to be amplified a thousand-fold when it comes to Facebook—Pete Cashmore went in a single CNN article from "you'll revolt" and "you will hate" to "Facebook has unleashed something so remarkable that you didn't even recognize it at first: A meaningful social network"), will be a good thing for this medium—especially for brands. And it all makes logical financial sense that it should. Although being the biggest player on the social media block will always be important to Zuckerberg and Co., the real success comes from monetizing the network they've worked so hard to build and expand. In order to do that, brands need to be successful in the space. As Mashable's Todd Wasserman put it yesterday, "It could be the Facebook advertising solution that turns advertising partners (brands) into better social media communicators and gets Facebook members to start recommending and sharing advertisers as much as they do the latest cat video." In other words, in order for brands to be successful on Facebook, they now, more than ever, have to tell a compelling story.
Viewed through that lens, it's easier to see how many of the changes being rolled out at Facebook over the next few weeks (explained in detail below) will not only make the user experience more engaging, but also will make it easier for brands to tell their story in engaging ways—and to more easily share and spread that story among fans and potential fans. As has been true in the broader advertising realm for a few years now, the key to success for brands will be creating engaging content that fans feel compelled to share and spread.
Timeline
What It Is: If Facebook up until this point has been a momentary snapshot of your life, then Timeline will turn it into a deep digital scrapbook. It's obvious that this feature is meant to be the focus of the new Facebook; Zuckerberg said they spent a year developing it when they unveiled it last week. "It's the heart of your Facebook experience, completely rethought from the ground up," he said. "Timeline is the story of your life." The aim is to make the profile page more accurately reflect who you are as a person, showing your growth (and, crucially, activity) over time, and with a more attractive design with space for a large photo.
What It Means for Brands: This change is an inarguable win, as it allows brands to carefully craft their own story, turning their Facebook profile into something more akin to a visual corporate "about" page with fan interaction tacked on below. Assuming the brand maintains consistent messaging over time, it allows brands to convey that intended message all at once, with more space to present beautiful creative accomplishments. Just be sure that the big beautiful 840×310 image you choose to utilize as your main profile shot also makes sense if you only see the bottom half of it—as that's what it will be cropped to in the default view.
The Updated News Feed
What It Is: The majority of media attention on the Facebook changes so far has focused on the new News Feed that has already rolled out, splitting the old version into different components determined by relevance and gives greater emphasis to visuals. The main news feed still includes status updates from most of your friends, but much like a newspaper it displays the most important stories (determined by relevance to you) at the top "above the fold," with other recent stories continuing below. Even these lower-tier stories are limited to those with a higher level of relevance, with a small "# More Recent Stories" prompt in the upper right corner of the feed to click to display those of lesser relevance. (How is such "relevance" determined? Well, that is still a bit of a closely guarded Facebook secret, but it's an on-steroids version of the EdgeRank algorithm they've used in the past. On a basic level, it prioritizes friends, family, pages, etc. based on how much you have interacted with their content, and how recently.) The bulk of other Facebook actions—friends commenting on other people's posts or photos, interacting with apps (such as listening to music on Spotify) or, crucially, liking a brand page—are now relegated to a Twitter-esque scrolling "Ticker" in the top right corner of the page.
What It Means for Brands: This change, in particular, is a tough one for companies to swallow. Not only are most casual interactions with brands now relegated to a space that people are already beginning to identify as a gutter of unwanted content, but depending on the browser, when users have the window below a certain size, this Ticker can push advertisements below it, inevitably decreasing the number of eyeballs that see a given ad. For most brands, it will be a primary goal to get out of people's Ticker and into their main news feed. And the best way to do that is by creating content that people are inspired to like, comment on, and share.
Frictionless Sharing
What It Is: No longer will people be limited to merely "liking" or "sharing" a page. They will soon be able to have all sorts of interactions, such as "reading" a magazine article or "watching" a TV show, and more—although Facebook will only initially add this functionality for articles, music and video, they say it will be opened up to developers in the near future, meaning that at some point users could be able to click that they "tasted" a wine at an event or "drove" a specific model of car. And once enabled for a site, this sharing will be done automatically, without the need for a user to click a button to do it manually (or the ability to choose what gets shared and what doesn't).
What It Means for Brands: This customization phase is still a little ways off, as the first phase has to roll out before it can be adapted by developers, but the possibilities are as endless as the apps that could utilize them. As a brand, especially one with multiple products, it may be important to signify how fans are interacting with your product beyond merely liking your brand. For a feel for how this frictionless sharing or passive application interactions will work, just look at the notifications in your Ticker of your friends' Spotify activity, where users are automatically expressing their app interactions to their friends without any manual sharing.
Tracking Technology
What It Is: Beyond the class-action lawsuit, Facebook is now facing new uproar over a little cookie that they've tried to sweep under the rug. The cookie in question, called "datr" and enabled by the Facebook Connect "like" buttons scattered across the web, tracks and logs browsers' activity whether they're logged into Facebook or not, as first reported in May by the Wall Street Journal. Although Facebook claimed it had been disabled, Australian programmer and blogger Nik Cubrilovic discovered last week that it was still busily tracking his movements across sites and IDing him with his Facebook identity, despite the fact that he had already logged out of Facebook. (Facebook has since responded that it was a bug that it is trying to fix, saying that "no information we receive when you see a social plugin is used to target ads."). With Congress now pushing the Federal Trade Commission to investigate Facebook over privacy concerns, this is certainly a developing story.
What It Means for Brands: Despite all the media attention, there's very little here to concern brands, unless the FTC cracks down hard on Facebook or the bad press causes people to leave the site in droves (the former is highly unlikely, the latter completely impossible). Should the tracking be forced to cease, users would then have to re-log in on a brand site to signify that they "like" that page using the Facebook plug-in…but should we get to that point, Facebook will undoubtedly devise a simpler solution.
Expandable Social Ads
What They Are: These ads haven't rolled out yet, so information is somewhat speculative (although confirmed by sources at Facebook), but they are intended to expand the reach and influence of advertising on Facebook by combining the custom content of standard engagement ads with the personal touch of Sponsored Stories (which only display that a friend has liked a page, without offering the opportunity to provide additional content). Think of them as a Sponsored Story, but now with feeling.
What It Means for Brands: This feature will further blur the lines between paid-for promotional messaging and social postings, as it looks and acts just like a regular post, with space to comment and discuss in-ad. These new ad units will display comments in addition to the likes offered by Sponsored Stories, offering the potential for instantaneous word-of-mouth endorsements from friends—or, if your brand or message is unpopular or untrue, the opportunity for consumers to blast you in real time, reinforcing the need for regular monitoring in social media. One potential drawback is that interaction with this ad will not appear in the new main news feed, negating the potential for the organic growth that would arise when a consumer's friend network saw that they commented on your brand. But the inarguable marketing power of recommendations from friends will undoubtedly be worth that price.
People Talking About
What It Is: This new measurement tool works as a way to measure engagement beyond simple "likes," providing a tally of all user-generated "stories"—basically any interaction with the content on your page that would register in the news ticker (comments, posts, liking comments or posts, answering questions, sharing and checking in), to measure overall engagement with the content.
What It Means for Brands: Not only is this a great tool to measure fan engagement with the content you publish (giving a more complete picture of how much people like, not merely "like," your brand), it will also be a public-facing measurement that will appear under the number of "likes" on a page—meaning that a visitor can see at a glance whether there's compelling enough content to keep them around. For brands, this will only make the publication of regular, engaging content more important—and more rewarding.
Friends of Fans
What It Is: This new insight (available only to administrators of pages) provides an overall number of friends your fans have. In other words, it's a measurement of the potential reach of your content should all of your fans choose to share or interact with it.
What It Means for Brands: Although this number really only puts a value on your brand's potential energy in this medium, it reinforces the importance of providing interesting, original, share-worthy content. Even if you have only 100 "SuperFans" who are so devoted to the content you provide that they share it with their networks, and they each average 250 friends, it's safe to assume that a compelling piece of content you publish will quickly be shared with an opted-in network of 25,000 people, many of whom will be motivated to pass it further.
Weekly Total Reach
What It Is: This number (again, only available to administrators of pages) will tally your content's actual messaging spread for the week—in other words, how many people and organizations used Facebook to spread the word about your page and its content.
What It Means for Brands: This will be an extremely useful measure of the success of your content's spread (especially when compared against the overall "Friends of Fans" number as a ratio of shareability), but shouldn't be seen as the be-all, end-all as it obviously doesn't measure message spread outside of Facebook through word of mouth, email forwards, or other means.
And that's the most important stuff…for now. Pending the outcome of various litigation and legislative involvement, these changes are expected to roll out over the next few weeks, and more changes and tweaks could soon follow. It's certainly a lot to adapt to all at once, but the message from Facebook to brands can be summed up in three words: Create. Better. Content. "Those brands will have a better chance of winning over friends of fans either by advertising or by creating something viral," explains Mashable's Todd Wasserman. "It's a cycle that has the potential to redefine the way we interact with brands. From now on, brands will be friends or friends of friends rather than spammers trying to bombard your consciousness." The overall effect is inarguably to make Facebook a more user-friendly—and, crucially, brand-friendly—place.