This past week I had a front-row seat at the largest content-marketing conference in the world, aptly named Content Marketing World. Hosted by our friends at the Content Marketing Institute, Content Marketing World was two full days of rubbing elbows with those in marketing (more than 1,000) who understand the value of using a coordinated array of media to engage consumers, deliver value and tell a brand's story.
With speakers like Mark Schaefer (of Post-Advertising Summit fame), Jason Falls, Jay Baer, C.C. Chapman, Mitch Joel, Ann Handley and Jack Hanna (yes, that Jack Hanna), the conference armed me with a plethora of content-marketing tips to tweet to my followers.
Here are 5 nuggets of content-marketing knowledge and inspiration, short enough for you to tweet, that were imparted at Content Marketing World. 


Takeaway #1: It's great when brands decide to embrace content creation. But just creating content will get you only so far. If you want real business results, you have to create content with a purpose.

Takeaway #2: Becoming an influencer in the social-media space isn't about how many cards you can pass out at events, how many speaking gigs you can rack up or how many open bars you attend. It's about finding the right audience, to whom the content you spread (the stuff you're passionate about) is meaningful and relevant, so much so that they're compelled to share it, and it's about making an ongoing commitment to engagement. It's truly about "being there," early and often, and making the extra effort to help those who could use your expertise, even if it's not going to lead to new business. 

Quote by Ardath Albee (@Ardath421)
Takeaway #3: A guiding principle for all forms of marketing—ensuring that the focus of your message is on the audience and not on yourself—is essential for creating a message that resonates. Don't try to use social channels primarily to tout your own brand's accomplishments, sales or products. Use them to guide your audience toward the content that addresses their needs.

Quote by Maria Pergolino (@InboundMarketer)
Takeaway #4: Short and sweet. Don't let the ease of typing a status update or tweet get in the way of creating media that audiences will share—and it's been proven that they share visual media the most. Even outside your social channels, when it comes to pitching to win new business, create presentations that are amplified by the visual aids  you're using. Attention spans are short. Catch people's attention with imagery.

Takeaway #5: You wouldn't consider Jack Hanna a standard keynote speaker at a content-marketing conference. But I've been to many, and Jack was far and away the most honest, engaging, thought provoking and memorable speaker I've ever heard (emphasis added). He put things simply, and he was right when he said the above. Branding can be effective only when it's genuine, and audiences can sniff out disingenuous marketing in an instant. Unearth your brand's true story and make sure it's consistent throughout all your messaging across all channels. 
#ShamelessPlug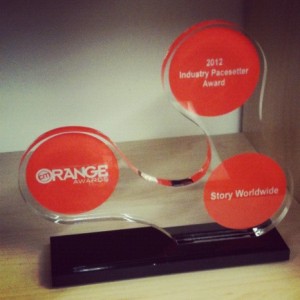 The Post-Advertising team is proud to announce that Story Worldwide, the agency behind this blog, earned the Industry Pacesetter at the Content Marketing Orange Awards, which were held at the conclusion of Content Marketing World. It was a nod from industry influencers who appreciate the efforts we've made to stake a claim in the future of marketing. 
You can see all the award winners here.
Content with a Purpose
If there's a macro-lesson we can take from CMW, it's that we're past the age in which just creating content was enough. There are no trophies for participation in content marketing. You have to understand your brand's story and tell it for a specific purpose on specific channels to specific audiences, always keeping your business goals in mind.
Are you marketing with a purpose?