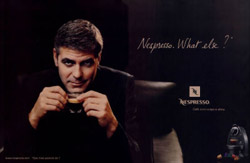 Why do I wince every time I see George Clooney advertise a coffee machine?
Nespresso's latest advertising campaign
, "What Else?" features Clooney in an interactive short-film. The campaign is well conceived, humorous, has high production values, involves the viewer and has
storytelling
at its heart. In truth, it's so polished they almost pull it off.